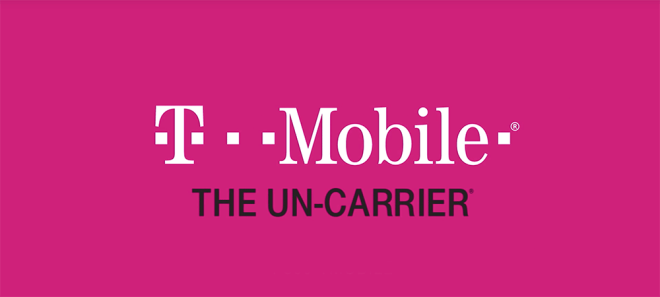 Today two new reports have surfaced that grade the performance of the major US carriers. One is a sort of all-around study that covers network performance, support, phone selection, and billing, while the second is focused on network quality.
First up, Computerworld has shared the results of a survey that it conducted from June 3 through August 31, 2015. T-Mobile came out on top in several of Computerworld's user satisfaction ratings, which are the result of the 786 Big Four customers that participated in the survey. T-Mo won the "Overall rating" category with a rating of 3.94 out of 5. The next closest was Verizon at 3.75, then AT&T with 3.57, and Sprint finished with a rating of 3.54. T-Mo also won out in the "Technical support," "Customer service/billing," "Performance relative to cost," "Average upload speed," and "Average download speed" ratings.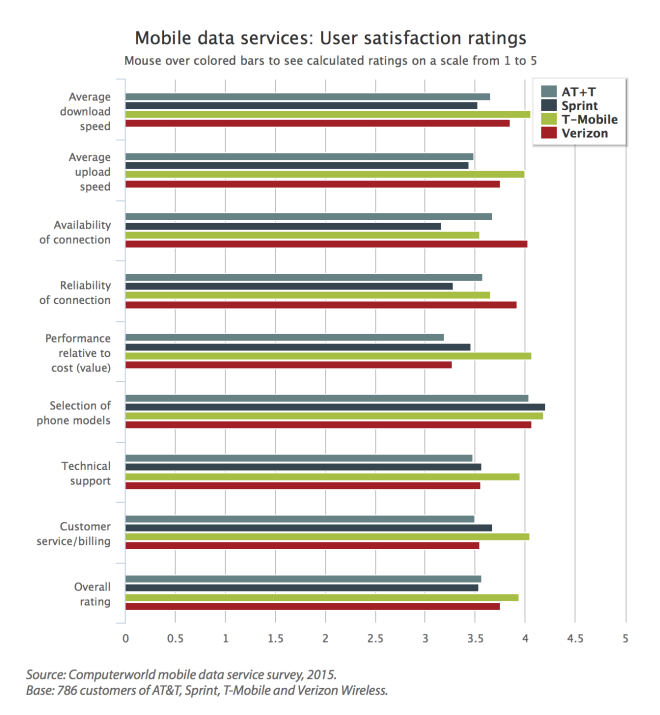 This report also dives into more specific questions, like what kind of plans customers have and how much they pay each month. The report shows that 42 percent of T-Mo customers have a monthly bill of $80 or less, and 65 percent of T-Mobile respondents said that they've got an unlimited data plan.
You can check out the full Computerworld report and all of the other stats that it has to offer right here.
Meanwhile, JD Power today chimed in with its US Wireless Network Quality Performance Study. This report is the result of responses from 41,400 wireless customers given between July and December 2015.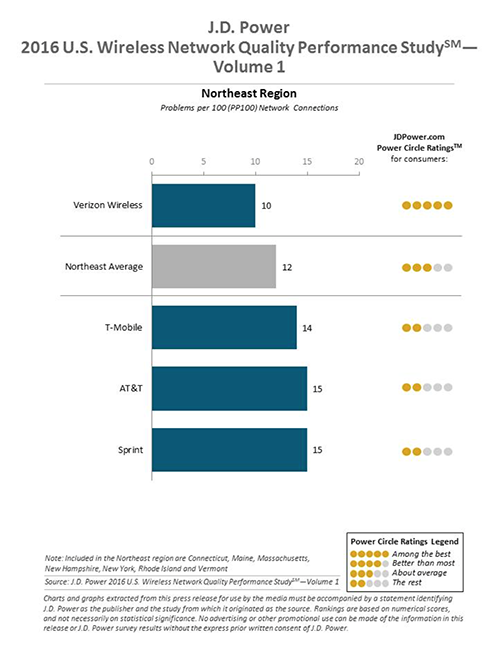 The JD Power study doesn't crown one overall winner, opting instead to break the US up into six regions: Northeast, Mid-Atlantic, Southeast, North Central, Southwest, and West. Verizon ended up winning all six categories, with ratings of 9 PP100 (problems per 100 connections) or 10 PP100 in all six regions. T-Mobile finished second place in the Northeast with a rating of 14 PP100, but it didn't do quite as well in the other regions. T-Mo finished fourth in the Mid-Atlantic (13 PP100), third in the Southeast (13 PP100), fourth in the North Central (14 PP100), fourth in the Southwest (14 PP100), and third in the West (14 PP100).
JD Power's report also notes that the percentage of customers that indicate that they're experiencing "slower than expected" data speeds has dropped since 2014. However, customers that do experience slow data connections are faster to change carriers in 2016 than they were in 2014. JD Power reports that customers who say they'll definitely switch carriers in the next 12 months experienced slow data at a rate of 22 problems per 100 connections. In 2014, customers would wait until they hit 28 problems per 100 connections before making the decision to change carriers.
The full JD Power report can be found here.
Sources: Computerworld, JD Power