Did you apply for a free Gear VR and Netflix code to go along with your shiny new Samsung Galaxy S7 or S7 edge? If so, keep an eye on your inbox.
Samsung has started sending out emails to let folks that submitted a claim for a free Gear VR know that their submission has been approved. TmoNews reader Luis has been told that his Gear VR will ship out on April 1, and once it does, Samsung will send a tracking number so that he can track the VR headset all the way to his doorstep.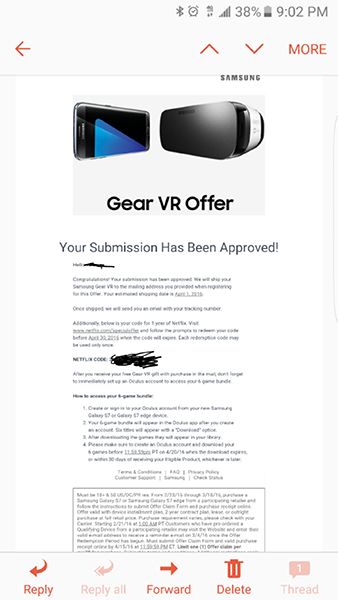 Also included in these emails is the code for a free one-year subscription to Netflix. It's nice to see the news of the Gear VR shipment, the Netflix code, and instructions on how to get the six-game VR bundle all in one email so that folks don't have to watch for multiple emails with their approval, their Netflix code, and game bundle retrieval info.
How many of you received your Gear VR/Netflix approval email tonight?
Thanks, Luis!