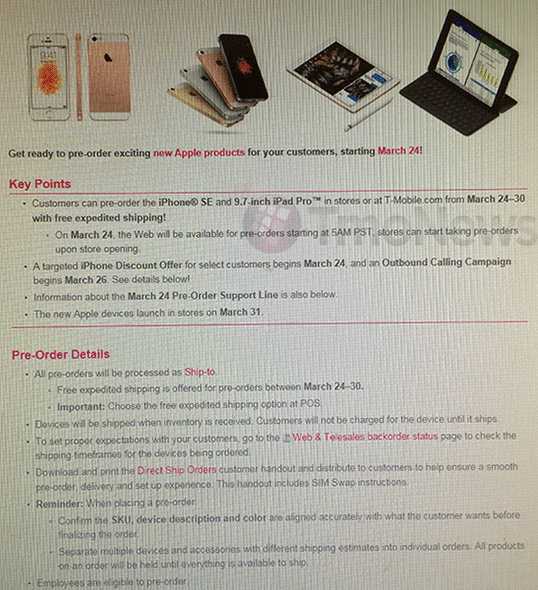 UPDATE: Just as this post went live, John Legere confirmed that T-Mobile pre-orders for the iPhone SE and iPad Pro 9.7 will start March 24 at 5:00 am PT.
One day after it was confirmed that the iPhone SE and 9.7-inch iPad Pro would be coming to T-Mobile, information on T-Mo's launch plans — including a special discount offer — have leaked.
Sources have sent along images that show T-Mobile's pre-order and launch plans for the iPhone SE and 9.7-inch iPad Pro. T-Mobile will begin taking pre-orders for both devices at 5:00 am PT/8:00 am ET tomorrow, March 24. You'll be able to pre-order online and in stores. Pre-order customers will get free expedited shipping, and the pre-order period will run through March 30. Once March 31 rolls around, both the iPhone SE and 9.7-inch iPad Pro will launch in stores.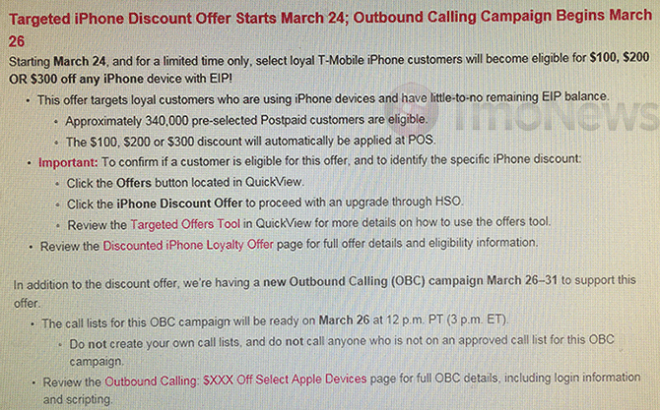 Interestingly, these leaked images show that T-Mobile is planning a special offer for "select loyal T-Mobile iPhone customers." Specifically, the deal will be available to approximately 340,000 pre-selected postpaid customers who are using iPhones and have little or no EIP balance. These customers will get $100, $200, or $300 off any iPhone device purchased on EIP. The discount will be applied at the point of sale.
The special iPhone discount will be available starting tomorrow, March 24, and will be available for a limited time. It's also worth noting that these discounts should be good for any iPhone device, so if the new 4-inch iPhone SE isn't your thing, you ought to be able to apply it to a larger iPhone model.
T-Mobile hasn't officially announced any of its iPhone SE or iPad Pro 9.7 launch plans, but the information contained in today's leak is supported by a report from Reddit user ragumaster. Considering that both pre-orders and the iPhone discount are expected to kick off tomorrow, March 24, we should get an official announcement from T-Mo either today or tomorrow morning. Stay tuned.
Thanks, anonymous!