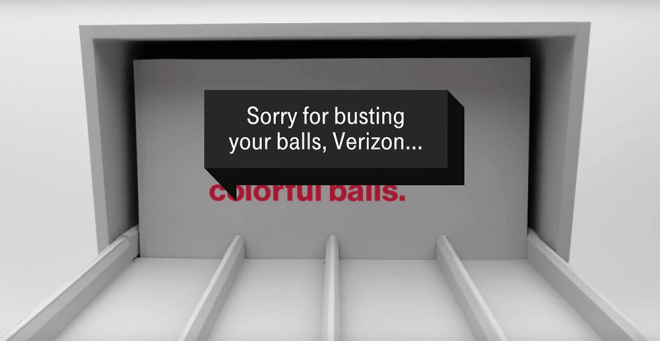 After targeting Sprint with a MetroPCS promo, T-Mobile is now going after Verizon with a new offer of its own.
The #BallBusterChallenge is a response to Verizon's recent ad that talks up its network performance in a RootMetrics study and compares AT&T, Sprint, and T-Mobile's results using colorful balls. To help "set the record straight," T-Mobile is launching the #BallBusterChallenge, which will see T-Mo travel across the country and pit its network against Verizon's. If Verizon's network wins in two out of three tests — calls, texts, and data speed — the Verizon customer will get a $100 Visa Prepaid Card. But if T-Mo wins, the Verizon customer will have to pose with a sign that could read "T-Mobile's network just schooled Verizon #BallBusterChallenge" or "Verizon's network just got spanked by T-Mobile #BallBusterChallenge."
T-Mobile customers can also bring a friend on any other network to the #BallBusterChallenge and go head-to-head in their own network battle. The winner of the matchup will get a $100 Visa Prepaid card.
The schedule for the #BallBusterChallenge hasn't yet been announced, so stay tuned for more info on when and where you can check it out for yourself.
This isn't the first time that T-Mobile fought to show that its network is better than Verizon's. Last year T-Mo ran its #NeverSettleforVerizon campaign, which let Verizon customers test drive T-Mo's network for 14 days. With the #BallBusterChallenge, though, T-Mo is taking its comparison to Verizon customers rather than waiting for them to come to it and try out the Magenta network. The #BallBusterChallenge is actually a bit reminiscent of the Smoked By Windows Phone challenges that Microsoft did years ago, which pitted Windows Phone against competing devices to see which was faster at performing everyday tasks.
Rounding out T-Mobile's response to Verizon's balls ad is a new video from T-Mobile. The short clip takes Verizon's original ad and adds T-Mo's rebuttal to Verizon's statements, Pop-Up Video-style. The retorts include the study's exclusion of Voice over LTE, which makes up 40 percent of calls made on T-Mobile's network, and the Extended Range LTE that T-Mo added in 2015.
You can check out T-Mobile's ball-busting video for yourself above.