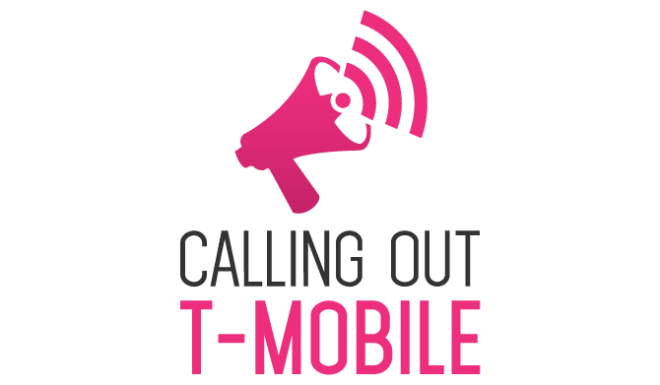 Earlier this week, we learned that several consumer advocacy groups were planning to attack T-Mobile for alleged false advertising. Now a website dedicated to this cause has launched.
Calling Out T-Mobile is a site that's largely backed by Change to Win, which identifies itself as a labor group that "seeks to strengthen consumer protections and workers' rights as part of our efforts to rebuild the middle class." The website lists a few "issues" with Magenta, like a deceptive marketing claim alleges that T-Mo's equipment installment plan (EIP) is like a two-year contract in that if a customer wants to leave, they must then pay a lump sum that covers the remaining cost of the phone, even though T-Mobile advertises itself as offering "no annual contracts." CtW also says that "customers may have to break their contract due to coverage problems, which can lead to significant financial penalty if the customer has an EIP."
Change to Win goes on to call out T-Mobile's early termination fee payments. T-Mobile says that it'll pay ETFs and EIPs of consumers that switch, but CtW doesn't like that customers must pay their switcher fees themselves and then get reimbursed with a prepaid Visa card. CtW says that it analyzed claims of T-Mo's payments of ETFs and that it found those payments can take "significantly longer than the eight weeks the company claims in its fine print."
Another complaint that CtW has with T-Mobile are its debt collection practices, arguing that they are "unfair" and that T-Mo will sometimes sends bills to collections with little to no notice, and often with incorrect info, too. Finally, CtW says that T-Mobile puts its customer care reps under "intense pressure" to meet metrics for things like average call duration and percentage of customer issues resolved. One T-Mobile call center employee is said to have told CtW "T-Mobile is the only place I have felt like a failure, the metrics are so unreachable. It is the only place where it feels like you have to bend the rules to make it."

As for why CtW is targeting T-Mobile, the group says that Magenta "has a higher total number of consumer complaints lodged with the Better Business Bureau than its larger competitors AT&T and Verizon. It also had a higher number of debt collection related complaints than its two larger competitors when adjusted for market share." CtW research director Nell Geiser also said that her group is targeting T-Mobile because it has led the trend of no-contract services.
As I mentioned earlier this week, there are some things that T-Mobile could do to combat these claims, like make it more clear that consumers will have to pay a lump sum if they end service while on an EIP. However, there may also be some murky motives behind this Calling Out T-Mobile campaign. As PCMag's Sascha Segan notes, Change to Win is aligned with Communications Workers of America, a group that's working to help organize a worker union at T-Mobile US. Additionally, groups like the League of United Latin American Citizens and the Asian Pacific American Advocates, count AT&T and Verizon as corporate partners. Those are two of the six groups that've signed a letter to the Consumer Financial Protection Bureau in support of Change to Win's Calling Out T-Mobile campaign.
T-Mobile hasn't yet issued an official comment on Change to Win's claims, and so far it doesn't appear as though the Consumer Financial Protection Bureau has weighed in on the campaign. Additionally, New York Attorney General Eric Schneiderman hasn't yet made any official statements on T-Mobile, despite recent claims that his office is investigating T-Mobile for running misleading advertising.
One person that has commented on this whole false advertising campaign is, unsurprisingly, John Legere. The T-Mo CEO sent out some Tweets in response to a recent USA Today story regarding the complaint being sent to the CFPB and Schneiderman's potential investigation, calling the report "false and misleading" and saying that T-Mobile stands by its ads.
@usatodaytech We stand by our ads! Contrary to the click-bait headline, we haven't been accused of false advertising by any regulatory body.

— John Legere (@JohnLegere) December 8, 2015
@whateverwesay it was a false and misleading story :) , Uncarrier is helping customers as we always have!

— John Legere (@JohnLegere) December 9, 2015
Source: Calling Out T-Mobile