UPDATE: Apple's iPhone 6s specs page confirms the device's band 12.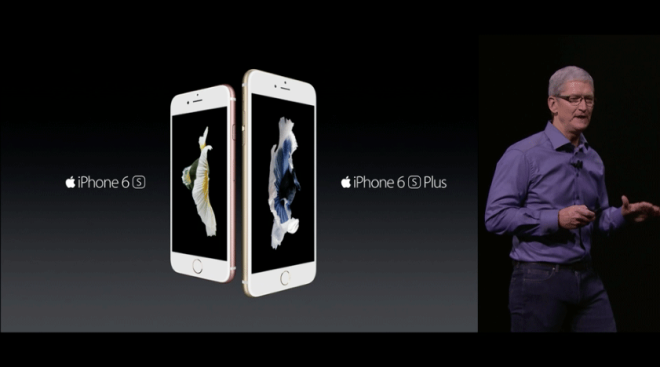 Exactly one year after the iPhone 6 and iPhone 6 Plus were announced, Apple has introduced the iPhone 6s and iPhone 6s Plus.
As their names suggest, the iPhone 6s and 6s Plus are refreshed versions of last year's iPhone models rather than totally new hardware. That doesn't mean that things are totally the same as last year, though. The first change is that Apple has added a fourth color option called Rose Gold, giving iPhone 6s and 6s Plus buyers four color options to choose from.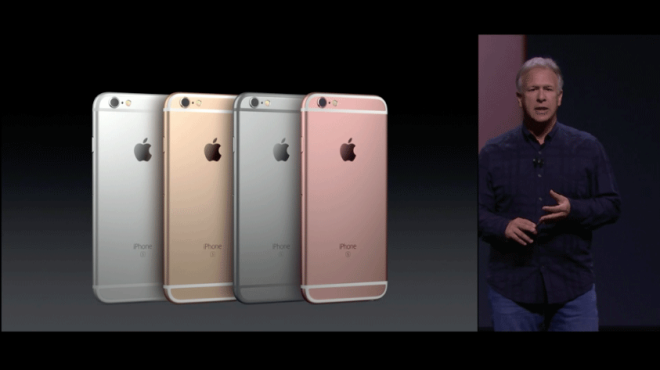 A major new feature of the iPhone 6s is called 3D Touch. The feature is similar to Force Touch on the Apple Watch, letting sensors built into the display determine how hard you're pressing on the screen and present different options for different pressures. 3D Touch is available both on the home screen — where it'll give you shortcuts to commonly-used app features — as well as in apps. For example, using 3D Touch on the list view of the Mail app will give you a preview of the particular message that you've pressed on.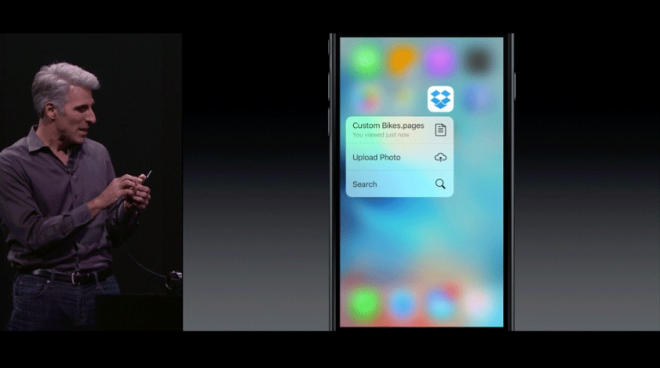 3D Touch also includes a Taptic Engine like the one found on the Apple Watch, giving you feedback when you utilize the 3D Touch feature.
Apple has also upgraded the internals of the iPhone 6s. Included in the new iPhone is an Apple A9 chip, which Apple says is 70 percent faster at CPU tasks than the A8 chip in the iPhone 6, as well as being 90 percent faster at graphics processing.
The iPhone 6s also includes a new 12-megapixel rear camera, up from the 8-megapixel camera found on the iPhone 6. The new camera can capture 4K video, a first for Apple's iPhone. The front camera on the iPhone 6s has been upgraded as well, with the new phone boasting a 5-megapixel front-facing shooter. And while the front camera doesn't include a flash like the rear camera, Apple has built a special chip to light up the display 3 times brighter than normal to add some more light to your selfies.
Speaking of photos, Apple today showed a GIF-like feature called Live Photos that'll animate when you press on them, complete with sound.
Other updated features of the iPhone 6s include a second generation Touch ID sensor that Apple says is twice as fast as the original sensor and support for using "Hey Siri" without the phone being plugged in.
As for wireless connectivity, Apples says that the iPhone 6s and iPhone 6s Plus boast LTE Advanced and faster Wi-Fi speeds. Perhaps best of all for Magenta Army members, though, is that John Legere says that the new phones support band 12 LTE. Woo!
Hell yes! The new iPhone supports 700mHz FINALLY! We have been rolling it out everyday! #reapthebenefits #appleevent

— John Legere (@JohnLegere) September 9, 2015
The iPhone 6s and 6s Plus will go up for pre-order on September 12, with a launch scheduled for September 25. As for pricing, Apple says that the iPhone 6s will start at $27 per month, while the 6s Plus will start at $31 per month. However, T-Mobile hasn't made any specific announcements about its prices for Apple's new phones.
One other detail that's worth noting is Apple's new iPhone Upgrade Program. Using it, Apple will let you upgrade to a new iPhone every year, and you'll be given an unlocked phone and then choose the carrier that you want to use it on. The program will start at $32 per month for 24 months and will include AppleCare+.