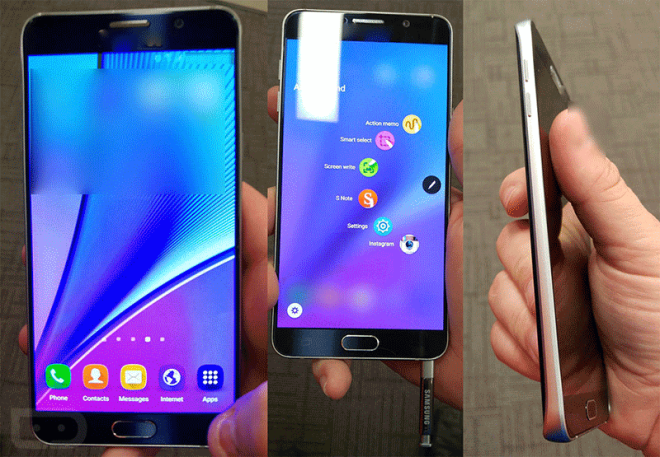 Another Galaxy Note 5 leak has surfaced, and this one gives us perhaps our best look yet at Samsung's next big Android phone.
Images shared by Droid-Life show what looks like a Galaxy Note 5 from several different angles. The Note 5 has the design of a Galaxy S6, which includes a metal frame and glass panels on the front and rear, but one notable tweak is that the rear of the Note 5 has curved sides that ought to make the gargantuan phone a bit easier to hold.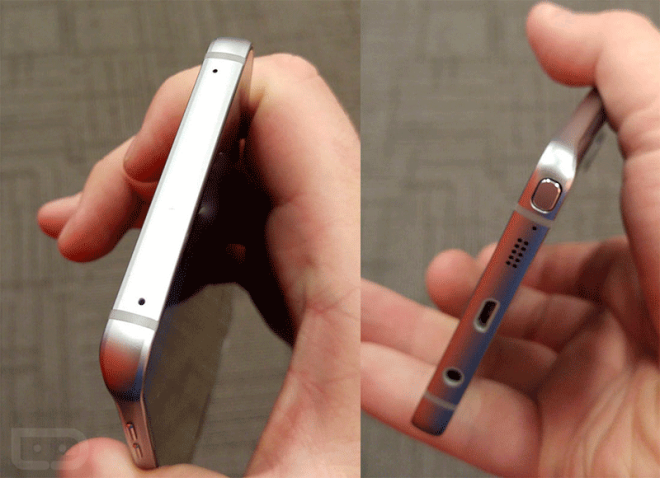 Another tidbit to take away from these images is that the Note 5's Air Command feature has a refreshed menu with options like Action memo, Smart select, Screen write, S Note, Settings, and Instagram. However, it's unknown if the presence of Instagram means that you'll be able to change that app in Air Command or if it's just display a recently used app. The photos also show the Note 5's S Pen — which is reportedly spring-loaded — its headphone jack, speaker, thin screen bezels, and standard microUSB port.
Finally, the source of this leak says that the Note 5 has 4GB of RAM, a 3000Ah non-removable battery, 32/64/128GB of built-in storage, and no microSD card slot.
Thanks to all of the leaks and rumors that we've seen in recent weeks, we're getting a pretty solid idea of what makes the Note 5 tick ahead of Samsung's August 13 reveal. And yes, it's looking like the Note 5 will be a major departure from past models in that it'll lack both a removable battery and microSD slot. Are those two missing features going to make you skip the Note 5?
Source: Droid-Life