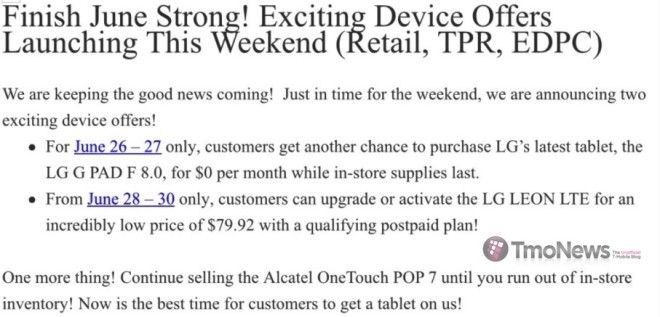 T-Mobile has sent a couple of communications out to its retail staff regarding promotions. The one above features two offers available this weekend. One which, sadly, expired today but another kicks off tomorrow through Tuesday.
From June 28th to June 30th, customers will be able to purchase the LG Leon LTE for under $80. That's down from the original full retail price of $149. Not a bad deal at all for a phone with a 4.5-inch FWVGA display, Android 5.0 Lollipop, a quad-core processor and 5MP camera. Although I must say, I think the price was far too high to begin with.
As well as that is news that T-Mobile has decided to extend the 2 for $100 and 4 for $100 promotions until the middle of July. The carrier had planned to remove the offers from its lineup today, but has now extended them further to July 14th.
Details can be find in the screenshot below: