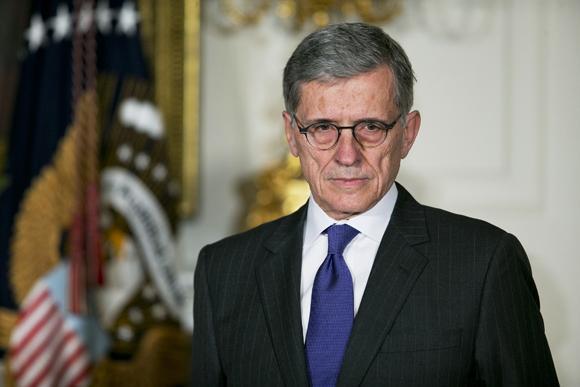 According to a report on Bloomberg, the FCC is likely to reject the request made by T-Mobile to reserve more spectrum for smaller carriers/companies and next year's incentive auction.
"Federal Communications Commission Chairman Tom Wheeler will recommend the agency deny T-Mobile's request, according to two people familiar with briefings agency officials have given industry representatives. They spoke on condition of anonymity because the meetings weren't public."
Last year, T-Mobile – and a bunch of other smaller carriers and companies – won a huge battle against the "Big Two" by pushing the FCC to set fairer rules for the upcoming 600MHz spectrum auction. Blocks of spectrum up to 30MHz in size will be reserved in each market for companies who don't already have a hoard of low-band spectrum. It was great news for T-Mobile who badly needs the spectrum to roll-out better rural LTE networks. But it wasn't enough.
Since then, T-Mo – along with other companies – has been pushing even harder to get up to half (or 40MHz blocks) of the spectrum reserved to make it a 50/50 situation for the small carriers versus AT&T and Verizon. We've seen blog posts, vlogs and even a dedicated site set up to push the Commission to side with T-Mobile and its partners.
T-Mobile's argument all along is that Verizon and AT&T were virtually given a ton of low-band spectrum when they started out. Since then, competition has been forced to try and catch up. And that's no easy task given how much of the industries revenue is going in to the pockets of "Dumb and Dumber".
The reality of the situation – however – is that Tom Wheeler, the FCC's chief has to try and make the right decision for all parties involved.
"No single party will be happy with everything we've done, but the final product is a balanced solution," Wheeler said Wednesday in a blog post. The proposal "ensures that competitive wireless carriers and new entrants have a clear shot" at winning airwaves and didn't directly address T-Mobile's request, he said.
Whatever happens, T-Mobile will be active in the auction. But just how active remains to be seen. It's a big opportunity for T-Mo to grab some much needed low-band spectrum, and one the company needs to go all-out on.
Source: Bloomberg