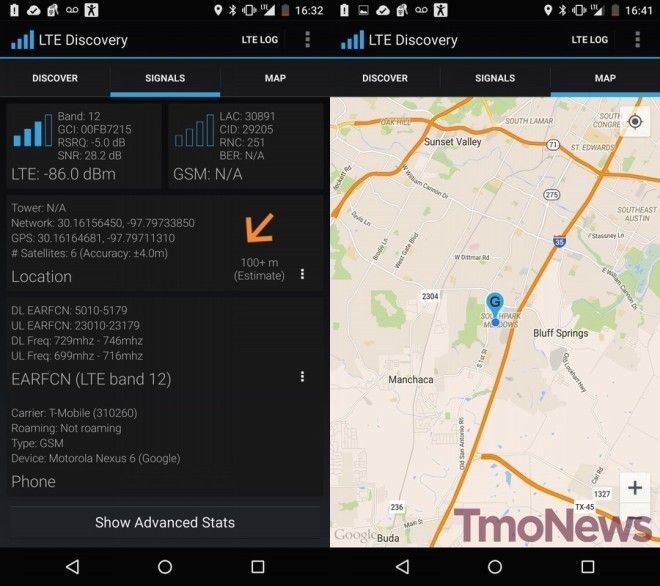 T-Mobile's band 12, 700MHz LTE rollout is showing no signs of slowing down as we hear of yet another sighting of the stronger network. One of our readers from south Austin noticed much stronger signal than normal just a couple of days ago while using his Nexus 6. Curious to see the reason for the extra strength of his LTE signal, he turned to the LTE Discovery app and found that band 12 was live.
I've attached the screenshots above for reference. They show the location of the user when he noticed the 700MHz frequencies. Specifically, it's in the Southpark Meadows area, close to Bluff Spring. If you have a band 12 compatible phone and you're in the area you may well notice better LTE performance indoors than you have in the past. The difference in this case was jumping from the old, usual 2 bars of service all the way up to 4-5 bars.
This isn't the first time we've seen active band 12 networks in Texas. By all accounts, T-Mobile has been pretty busy there. We've heard reports of sightings in Dallas, Houston and San Antonio and that's not mentioning the number of confirmed live sites shown on DanRant's constantly updating map.
As always, get in touch if you notice the 700MHz alive and kicking in your area. There are a few phones out now with the capability of logging on to T-Mobile's newest LTE frequency. Those include the newest flagships like the HTC One M9, Galaxy S6 and S6 Edge as well as last year's best phones: Note 4 and Nexus 6. You can tweet the official @TmoNews account, or my own @PhoneDog_Cam handle or grab me via email at cam@tmonews.com.