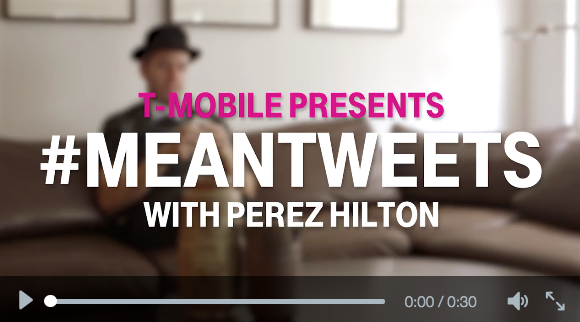 After last week's social networking setback, you'd forgive T-Mobile for backing out of its #NeverSettleforVerizon promotion. And with any ordinary wireless operator, that would be expected. But this is T-Mobile and John Legere we're talking about here. When has this new, improved Uncarrier ever backed out of anything (unless it's upsetting lots of customers)? Instead of dialing it back, John tweeted out a short video clip this morning with Perez Hilton responding to a Verizon customer's complaint about Big Red's customer service.
HA! @PerezHilton is right! Fat chance you'll hear from big red! #neversettle! Customer service is # 1 at @TMobile!! https://t.co/EBJJiHtQPJ

— John Legere (@JohnLegere) May 18, 2015
The sad truth is, the customer probably won't get a response from VZW's chief while T-Mo customers regularly get tweeted responses from John Legere. Huge difference in customer service there. But, of course, we're a little biased and we would point that out.
Perez Hilton though? Could they have chosen someone better to dish out the snark on video?
Immediate update – Looks as though there will be more than one #meantweets video, Perez Hilton just tweeted out this second response:
.@TMobile and I FEEL for you, @makkkadelic! SO many feels. ALL the feelings. #NeverSettle #ad pic.twitter.com/OtJ7ollKk9

— Perez Hilton (@PerezHilton) May 18, 2015
Source: Twitter (@JohnLegere)