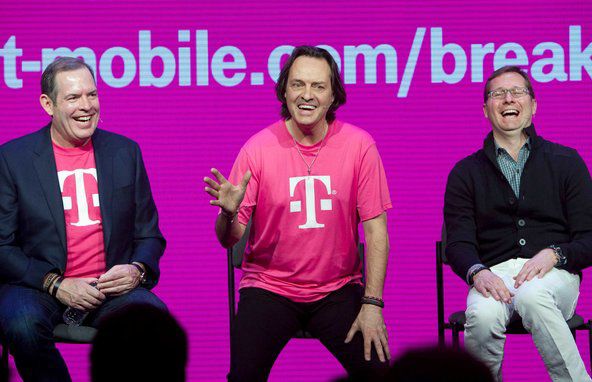 Among all the busy-ness of yesterday's leaks and discoveries, one article that slipped through our fingers was published by Mike Dano over at Fierce Wireless who broke down the highlights of Braxton Carter's presentation at the J.P. Morgan Technology, Media and Telecom Conference. Within the keynote, Carter – T-Mobile's Chief Financial Officer – touched on a number of important topics. These included family plan promotions, their future and success.
With the most recent push to increase family plan uptake, it's no surprise to hear Carter talk of the company's belief that there is "substantial opportunity" to get even more customers on to its family plans. The most prominent promotions include both the Unlimited 2 for $100 deal and the 4 for $100 deal where each line has 2.5GB 4G LTE instead of the usual 1GB. But this may just be the beginning of T-Mobile's focus on the family. Carter hinted that T-Mo may do more, although he didn't delve into any details. As reported by FW:
"In comments today at the J.P. Morgan Technology, Media and Telecom Conference, Carter said T-Mobile may expand its offerings for families in the future, though he declined to provide details. Indeed, he made similar comments during T-Mobile's quarterly investor call: "We're not going to talk about some of the future innovations that we have plan, but I think uncarrier 10 coming soon, we're excited about that as well as other innovations throughout the year. I think one of the challenges we have as a management is with the innovation and things we are bringing into marketplace: How can we continue to target these family units …"
Another interesting tidbit from the announcement was Carter's reference to its ever-expanding LTE footprint. While we regularly hear of T-Mobile wanting to reach 300 million people by the end of 2015, we don't often hear mention of square mileage. After all, the carrier seems to have a reputation for going after the major metro areas and ignoring rural coverage altogether. It'll come as some relief to many that T-Mo plans to almost double its geographic coverage too. Reaching its 300 million POPs goal means boosting its geographical coverage from under 1 million square miles up to over 1.6 million square miles. 2015 is the year of rural coverage expansion.
As a side note, Carter also – like all of us – hopes that the next iPhone (probably 6s) will include compatibility with T-Mobile's Band 12 700MHz frequency.
Read more analysis on this by the ever-excellent Mike Dano at Fierce Wireless.