T-Mobile and Alcatel OneTouch have worked together on a number of budget-friendly smartphones and tablets. That relationship, it seems, is set to continue. We've been sent a cheat-sheet detailing a new, cheap handset on its way to T-Mobile soon.
The Alcatel OneTouch Pop Astro – spec wise – fits somewhere in between the Evolve 2 and Fierce 2. It has a 4.5-inch qHD (960×540) display, 1.2GHz quad-core processor with 1GB RAM and 4GB internal storage. It also features a 5MP rear camera, is equipped with 4G LTE, VoLTE and the ability to make Wi-Fi calls. Software-wise, it runs Android 4.4 KitKat, and it's unknown whether or not it will be eventually upgraded to 5.0 Lollipop.
This device has already got its own page in T-Mobile's support section. Specific LTE band compatibility details are scarce on the official page, however, 50atomic on Reddit revealed the FCC listing back in February which shows bands 2, 4 and 12 are all supported. And that is perhaps the biggest news here. If the FCC listing is accurate – which they normally are – we could see a super-affordable Android handset with 700MHz support.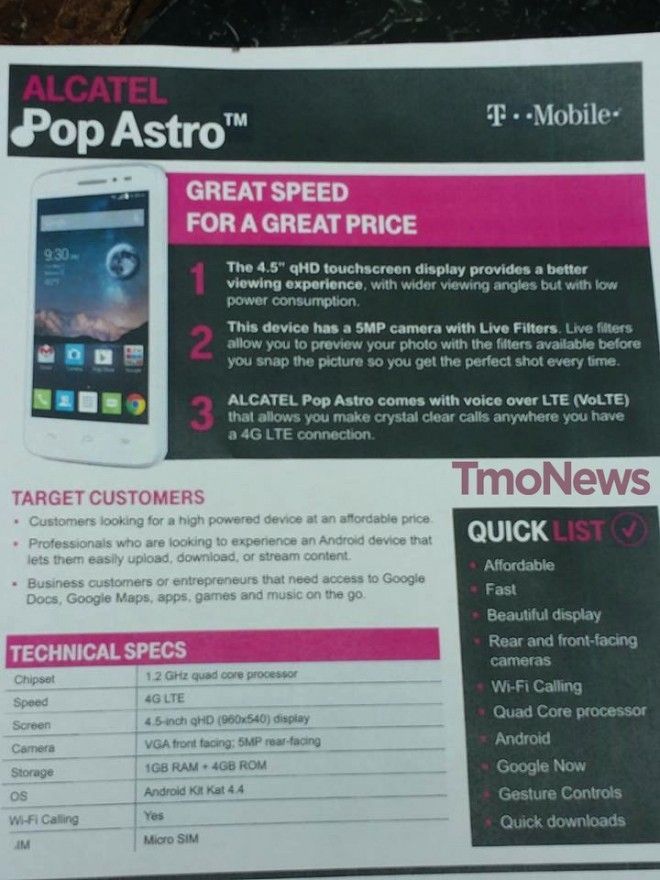 We don't know any pricing details yet, but given the fact that it only has a qHD resolution display, 1GB RAM and a 5MP camera, and is described as "affordable", it's hard to see the device selling over $100. Especially given the fact that Alcatel's highest end flagship Idol 3 only costs $249, and that the current highest priced model sold by T-Mobile is only $126.
There's no official launch date given in any of the details we've seen. But with it being such a low-end device, that's no surprise. It hasn't yet appeared on T-Mo's online store, but keep checking the Alcatel-branded phones and it might appear soon.