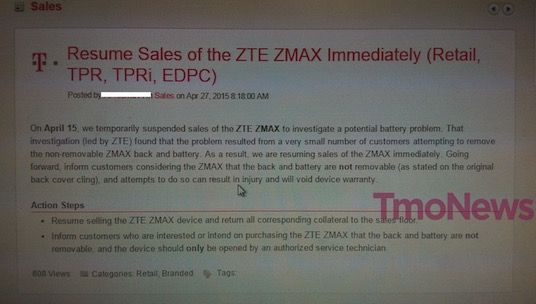 T-Mobile, today sent out a memo to staff informing them that the ZTE ZMAX was going back on sale following a brief absence. Just over 10 days ago, the device was removed from stock. And, for a while, we weren't 100% sure why, until it was revealed that it was customers trying to remove the non-removable battery which caused the concern.
Now, the phone is back, and T-Mobile and ZTE have worked things out. But staff have to make it clear to customers that they should not remove the battery, or attempt to.
" On Wednesday April 15, we temporarily suspended sales of the ZTE ZMAX to investigate a potential battery problem. That investigation (led by ZTE) found that the problem resulted from a very small number of customers attempting to remove the non-removable ZMAX back and battery. As a result, we are resuming sales of the ZMAX immediately. Going forward, inform customers considering the ZMAX that the back and battery are not removable (as stated on the original back cover cling), and attempts to do so can result in injury and will void device warranty.

Action Steps:

Resume selling the ZTE ZMAX device and return all corresponding collateral to the sales floor
Inform customers who are interested or intend on purchasing the ZTE ZMAX that the back and battery are not removable, and the device should only be opened by an authorized service technician.
With the ZMAX being one of T-Mobile's best-selling devices, it's great to see that logic and reason has prevailed. And it's available again, from right now. I'll update the story when/if I got more context on the reversal.