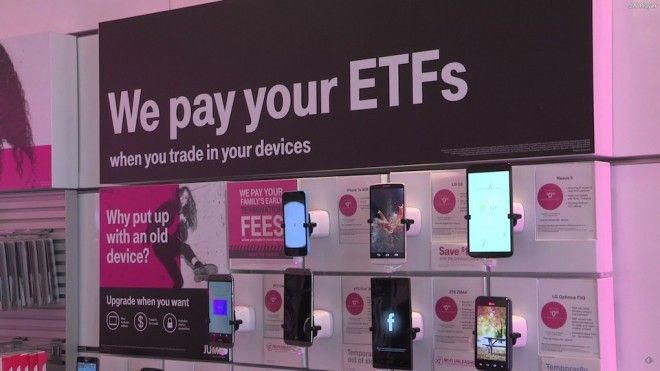 Along with its new simple pricing and offers for small business owners, T-Mobile announced a couple of new promotions for its regular consumers. Dubbed "Un-contract" and "Carrier Freedom", they threaten to make T-Mo's offers even tastier than they already were.
The Un-contract
In T-Mobile's words, the Un-contract move is there so that business customers and regular consumers can be more certain about their price plan cost and allowances. Your Simple Choice rate plan won't go up as long as you stay a customer, and even customers with unlimited 4G LTE data will have it for a minimum of two years.
"We're the Un-carrier. Everything the carriers do, we un-do," said John Legere, president and CEO of T-Mobile. "The other guys have been throwing out all kinds of desperate, short-term promotions to suck you in and lock you down − only to jack up rates later. We're not playing that game. The Un-contract is our promise to individuals, families and businesses of all sizes, that − while your price may go down − it won't go up."
This extends to promotional offers. So, if you're one of the customers who signed up to the 4 lines for $100 deal to get 2.5GB per line, you'll keep it. For as long as you're a customer. That means it won't revert back to 1GB when 2016 swings back around. That extra allowance is yours to keep.
For all Simple Choice customers, the Un-contract kicks in from March 22nd.
Contract Freedom, originally announced in January 2014, introduced an easy way to escape another carrier's contract. T-Mobile would pay your early termination fee (up to $350) and give money towards your old phone so that you can switch your number to T-Mo. Today, the carrier announced that it's extending the offer to pay for device payment plans like AT&T Next. T-Mobile will give customers up to $650 to pay off those installment plans and help them switch carriers.
"To take advantage of Carrier Freedom, a customer simply ports their number to T-Mobile's wildly popular Simple Choice plan, trades in their smartphone or tablet and buys one of our hot new smartphones. They'll get the trade-in value right away, and a prepaid card with the balance of additional outstanding phone payments after the trade-in value when they submit the carrier's bill to T-Mobile − up to $650 total per line on up to 10 total lines. Businesses with more than 10 lines also can also take advantage of Carrier Freedom, with bill credits up to $100 per line after the 10th line."
All in all, the pain points addressed today on both the consumer and business sides could be wildly successful. For me, these seem like the kind of issues T-Mobile should be dealing with when it's trying to change the wireless industry. Much more than important than free music streaming or Wi-Fi calling. As popular as those are, they're nice bonuses.
By offering simple pricing to businesses, and locking in promotional offers permanently, T-Mobile is being a true Un-carrier.
Source: T-Mobile