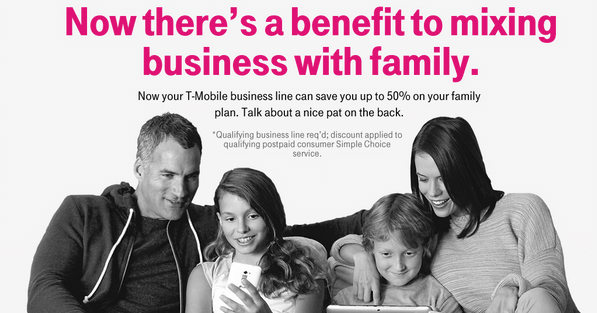 Yesterday afternoon – or morning if you're Pacific time – T-Mobile announced a brand new set of Uncarrier moves for businesses and consumers. As we'd heard leading up to the event, we knew business was going to be a big deal here. But we didn't know exactly how big a deal it would be.
Now, with T-Mo's new plan, businesses all get a flat rate fee per line and don't have to pay data access fees. You pay for a line and it comes with 1GB of 4G LTE data and unlimited minutes and texts. But along with it came a very tempting proposition for families. If you have a company-provided business line with T-Mobile, your family can save on their first two lines on a family plan. Here's how it works.
First off, the business line has to be one provided by your company. In other words: Your employer has signed a multi-line deal with T-Mobile and you have one of those lines. This is not for personal phones with company reimbursement.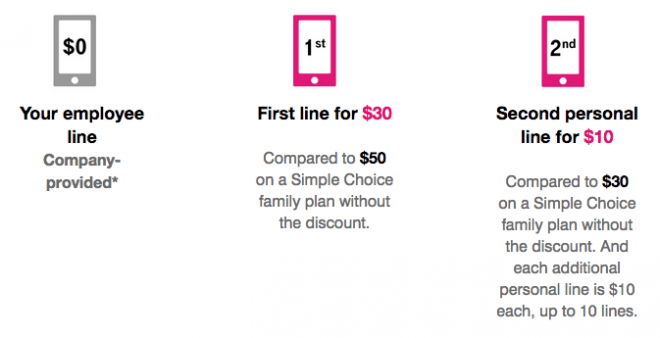 This company line then essentially acts as your first Simple Choice line in a family plan. So instead of paying $50 for the first line on your family plan, you'd pay the second line rate of $30 (assuming you're signing up for the base 1GB Simple Choice plan). Your second line would be charged at the rate of a third line = $10. After that, any additional lines would be $10 per month, just like they are now for Family Plan customers. It essentially comes down to saving $40 per month, which ever Simple Choice plan you go for.

Obviously, you can choose different data allowances for each line, as you can now. So you could – for example – have a $60 unlimited line and a 1GB line for $70 per month combined. That's versus the usual combined price of $110.
The deal is available to current customers as well as new ones. That means, if you currently use a business-provided phone on T-Mobile and you have members of your family on a Simple Choice Family Plan, you can sign up and get the discount from this Sunday, March 22nd. Pretty sweet, right?
If you fit the conditions, head on over to T-Mobile.com/busfamdiscount and enroll from March 22nd. Make sure you have your business phone to hand when you do. If you have an issue signing up online, call 1-800-937-8997, and a one of the Customer Care reps will be able to help you. You might be asked for your business email address as verification when you enroll.
Once enrolled, the discount will show on the next month's family bill, and every month from then on until you leave your company, or they cancel their T-Mobile business plan. At which point, the Family Plan will revert to the regular full price. It's also worth noting that if you have any other kind of corporate discount through T-Mo, you won't be eligible for the B2B Family Service Discount.
Let us know if you'll be saving money through this scheme. And head on over to T-Mobile.com to find out more, or sign up.