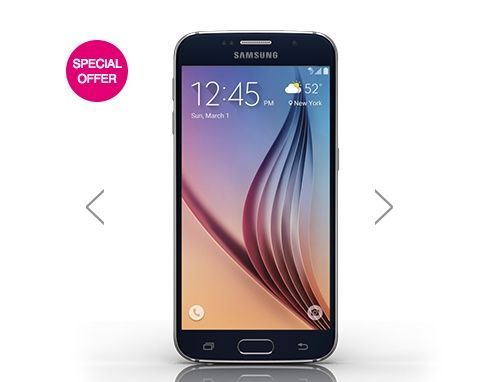 As announced previously, T-Mobile opened up the pre-sale for its Galaxy S6 and Galaxy S6 Edge models online and in store today. And – although storage and color options are slightly limited – there's a good enough variety to give you plenty of choice. At least, when it comes to storage options.
T-Mobile will be offering the 32GB and 64GB models of the S6 and S6 Edge from launch in Black Sapphire and White Pearl. 128GB models of the S6 in black and white will also be available and – along with the aforementioned models – have a 7-10 day shipping estimate if ordered from today. The 128GB model of the S6 Edge in white and black has an estimated shipping time of 2-4 weeks while gold models of all devices simply states "coming soon" with no specific ETA.
Of course, those shipping estimates will be subject to change as more people order their device for delivery in time for launch day. You can keep an eye on the estimated shipping dates on this T-Mobile page.
For those wondering about pricing, I've compiled a list of storage options and models below. It's worth noting that the pages are very slow at responding when attempting to view details. I guess previous flagship launches didn't help T-Mo learn to better prepare its systems.
Galaxy S6 – Order here
32GB – $679.92 full retail price – $0 down and 24 x $28.33
64GB – $759.99 full retail price – $99.99 down and 24 x $27.50
128GB – $859.99 full retail price – $199.99 down and 24 x $27.50
Galaxy S6 Edge – Order here
32GB – $779.76 full retail price – $0 down and 24 x $32.49
64GB – $859.83 full retail price – $99.99 down and 24 x $31.67
128GB – $959.83 full retail price – $199.99 down and 24 x $31.67
The full chart of shipping date estimates at time of publishing (subject to change):