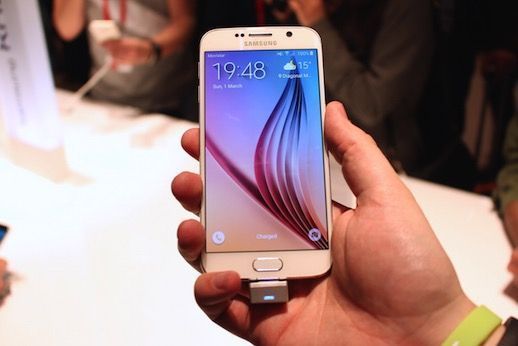 Hot on the heels of its pre-order announcement for the HTC One M9, T-Mobile has just announced that it will also be offering up the two new Samsung Galaxy S devices on pre-sale from tomorrow, March 27. Pre-orders will begin at 7am Pacific/11am Eastern. One hour later than the HTC One M9 pre-sale.
As with the HTC, the S6 and S6 Edge pre-orders should arrive at customer doorsteps before the official April 10 launch date. And you'll be able to get both the S6 and S6 Edge for $0 down on EIP. The S6 will be $28.33 per month, for 24 months giving it a full retail price of $679.92. The S6 Edge will be $32.49 per month with a full price of $779.79.
As announced previously, customers buying the S6 or S6 Edge will also get a full year of Netflix for free.
FULL PRESS RELEASE
BELLEVUE, Washington − March 26, 2015 – Want to be the first to get your hands on the reimagined, gorgeous Samsung Galaxy S®6 and Galaxy S®6 edge? Well, T-Mobile (NYSE: TMUS) wants to be the first to '6' you up. Now, with Carrier Freedom™, it won't cost a penny to leave your old carrier when you make the switch to T-Mobile to get Samsung's latest. And, when you order at T-Mobile.com or in T-Mobile stores starting Friday, March 27 at 7 a.m. PDT, you can be among the first to get one of these hot, new superphones − since T-Mobile will begin shipping the Galaxy S®6 and Galaxy S®6 edge to pre-sale customers before the devices go on sale in stores Friday, April 10.
Now, there's absolutely no reason to wait to upgrade to Samsung's new superphones. Carrier Freedom is designed to free the 29 million people currently locked into a device payment plan or lease with the old-school carriers and the 150 million more stuck in a contract. Now, the Un-carrier will pay every penny of your remaining phone and tablet payments up to $650 AND your early termination fees − on up to 10 lines − when you trade in your old device for a new one at T-Mobile with our wildly popular Simple Choice™ plan.
"Samsung's built insane power into two beautiful bodies − you have to hold these phones in your hands and experience them for yourself," said John Legere, president and CEO of T-Mobile. "And now that we've knocked down every barrier the other guys use to lock you in, there's no reason to wait to come over to the Un-carrier to grab Samsung's Next Big Things."
The Samsung Galaxy S 6 and Galaxy S 6 edge with 32 GB of memory will be available for $0 down (and $28.33/month for 24 months; FRP: $679.92; $32.49/month for 24 months; FRP: $779.76, respectively). And starting tomorrow, customers can walk in and check out these phones for themselves in most T-Mobile stores nationwide.
Plus − as an added bonus − T-Mobile customers who order before April 12th can also receive a one-year Netflix subscription. That's a value of more than $100. So you can binge-watch the latest season of "House of Cards" without ever worrying about overages − all on America's fastest nationwide 4G LTE network with Unlimited 4G LTE. Try that on a comparably-priced plan from AT&T, and get ready to fork over more than $350 in overage penalties. Qualifying customers visit SamsungPromotions.com to get a Netflix promo code redeemable at Netflix.com/SpecialOffers for a $107.88 credit ($8.99 per month for 12 months) on their new or existing Netflix account.
With a screen like you've never seen, a stunning new metal design and a dual-edge display, Samsung's latest superphones are the 'sixiest' and fastest Galaxy phones to date. Looks like these are the perfect wrapping to advanced power and functionality, alongside the convenience of built-in wireless charging abilities. And beginning April 10th, you can pick up the new Samsung Qi Wireless Charging pad for just $49.99, for cord-free, hassle-free charging on the go.
Only T-Mobile customers will enjoy the Samsung Galaxy S 6 and Galaxy S 6 edge the way they were designed to be experienced − untamed and unleashed − with unmatched Un-carrier benefits like no annual service contracts, no domestic overages on our Simple Choice plans as well as:
Simple Global™: Unlimited international data and texting at no extra charge in 120+ countries and destinations
Data Stash™: Unused high-speed data you've already paid for automatically rolls forward for use for up to a full year
Wi-Fi Calling & Texting: Extending the ability to call and text beyond the reach of any cellular network
Music Freedom: Unlimited music streaming with top music services like Pandora, Spotify, iHeartRadio and Samsung Milk Music, without ever counting against your 4G LTE data
Un-carrier for Business™: Simple, no-haggle pricing for your business, including discounts for employees' families
The Samsung Galaxy S 6 is also coming to MetroPCS this April. Customers can sign up to get more information from MetroPCS as it's available at www.metropcs.com/nextbigthing.html.
Un-carrier customers can purchase the Galaxy S 6 in White Pearl and Black Sapphire at http://www.t-mobile.com/cell-phones/samsung-galaxy-s-6.html and the Galaxy S 6 edge in White Pearl and Black Sapphire at http://www.t-mobile.com/cell-phones/samsung-galaxy-s-6-edge.html beginning March 27 at 7 a.m. pacific time. The Gold Platinum edition of both phones will be available as soon as T-Mobile gets inventory from Samsung – and no later than April 10.