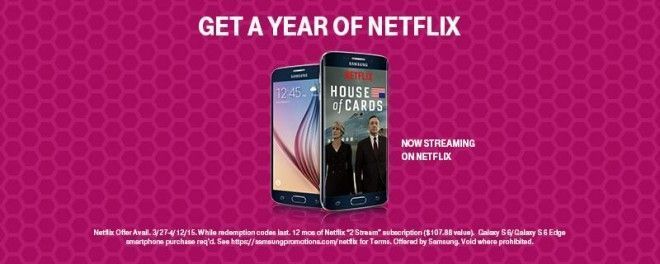 If you thought getting unlimited music streaming on your Simple Choice plan was awesome, you're going to love T-Mobile's promotion for the launch of the Galaxy S6. Announced on Twitter this morning by John Legere and T-Mobile, the company is going to be offering 12 months of Netflix, for free, to anyone who buys the Galaxy S6 or S6 Edge.
ATTENTION! If you get the @Samsung Galaxy #S6 from @TMobile you can get a year of @Netflix. #BOOM #bingewatch #HOC pic.twitter.com/FIArMJ0Tqk

— John Legere (@JohnLegere) March 25, 2015
This offer comes alongside the pre-registration sweepstakes offering the chance to win some cool Sammy-branded gadgets.
You'll be able to use this – as suggested by Legere – to binge watch House of Cards if you like, or catching up on some awesome movies. As someone who uses Netflix every day, this offer seems like a sure-fire way of getting people to buy the new device on T-Mobile's network. Alongside Simple Choice, Carrier Freedom and Music Freedom, this makes for a very compelling promotion.
According to the fine print, the Netflix offer will be available from March 27th until April 9th, 2015. While codes last.
"Credit equal to the value of 12 months of standard Netflix on the "2 Stream" subscription plan (valued at $8.99/month) provided. To receive Netflix code, submission must be made at samsungpromotions.com/Netflix by 11:59 PM ET on 5/21/15. Credit must be redeemed by 11:59 PM ET on 6/20/15."
As of right now, you can't pre-order the S6 or S6 Edge yet. However, we're expecting more details on exact time frames for pre-order and launch to come fairly shortly.
Will you be upgrading to the S6 or S6 Edge? Or will you be waiting for the range of new devices that normally come out in the fall?
Sources: John Legere (Twitter), T-Mobile (Twitter)