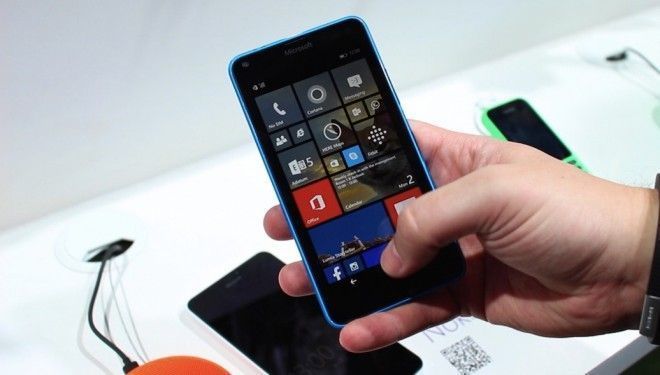 Early this morning, here in sunny Barcelona, Microsoft took the wraps off its latest mid-range smartphones: The Lumia 640 and Lumia 640 XL. And at least one of those is making its way to T-Mobile and MetroPCS shelves later this spring. The carrier announced this morning that it will be selling the Lumia 640, making it a direct follow-up to the 635 which was released last year.
On the spec side, it's a pretty impressive phone considering where it fits in the market. Key features include:
5-inch, 720 x 1280 resolution LCD screen
1.2GHz quad-core Snapdragon 400 processor
2,500mAh battery
8MP camera
LED flash
Windows Phone 8.1 – Planned upgrade to Windows 10 for phones
1GB RAM
8GB onboard storage
Wide-angle 0.9MP front facing camera
8.8mm thin
Surprisingly, despite being 8.8mm in thickness, it still felt like a really thin device when I got my hands on it earlier today. At least, it is thin compared to its predecessor. It feels solidly made, as all Lumias do and the user interface was fast and fluid. The screen might not be the brightest around, but its colors are vibrant and contrast is good for a mid-range device. It has a pixel density of 294ppi, making it plenty sharp enough and with Corning Gorilla Glass 3 to make sure it doesn't get too scratched up during daily use.
The one thing I will say about the device is that the back is really shiny, at last on the blue model I had. That means it gathers fingerprints really easily, and shows even the most tiny of scratches. Apart from that, if you're looking for a wallet-friendly Windows Phone this year, the 640 could be a great option.
Check out the full specs on Microsoft's landing page.
Source: T-Mobile
.
PRESS RELEASE:
"T-Mobile and MetroPCS Have You Covered this Spring with the Microsoft Lumia 640
Ask for more Mobile World Congress news and you shall receive: on the heels of Microsoft's global unveiling of the Lumia 640, the Un-carrier™ announced it will launch the device this spring at T-Mobile and MetroPCS – the only wireless providers to be shipping the Lumia 640 with Wi-Fi Calling out of the box, allowing customers to make calls beyond the reach of cellular networks over a Wi-Fi connection.
The Lumia 640 comes with Cortana, your personal digital assistant who can organize and keep track of your life, so you can spend more time doing the things you love, like using your favorite music streaming apps on the nation's fastest 4G LTE network. And with Music Freedom™, high-speed data charges do not apply."