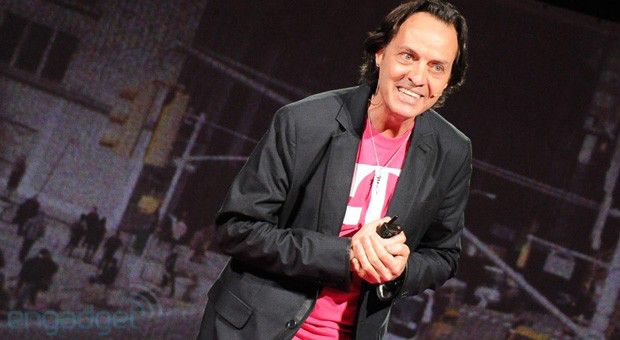 Yesterday, Tim Hoettges, CEO of Deutsche Telekom, made some forward-looking comments in an exclusive interview with Re/code. DT – of course – holds the controlling stake in T-Mobile US. The comment which seemed to spark the biggest reaction was "The question is always the economics in the long term … and earning appropriate money. You have to earn your money back at one point in time."  
Re/code expanded: "Longer term, Hoettges admitted that T-Mobile's current approach is not sustainable, especially given the need to invest between $4 billion and $5 billion each year just to keep up."
Personally, I don't think the comment was anything other than stating the obvious. T-Mobile – although growing its service revenue consistently over the past few quarters – is yet to return to being a profitable business. It's investing heavily in spectrum and network expansion, and offering competitive prices. If the Un-carrier moves continue not making profit for T-Mobile long-term though, then a change will – of course – be necessary. Number 1 rule of business is making money. And I'm sure that's a fact not lost on John Legere. It's also not lost on him that T-Mo is going from strength-to-strength.
Still, the way a couple of publications reacted to yesterday's story ground his gears. Specifically, this one from ArsTechnica and another from "Geezermodo".  When asked on Twitter about the two stories, T-Mo's CEO called them out as BS:
.@jan_vater @Gizmodo @TMobile sorry geezermodo , terrible article misinterpreting an industry structure statement by shareholder

— John Legere (@JohnLegere) January 20, 2015
@jeremydigital @arstechnica @jbrodkin its total bullshit — John Legere (@JohnLegere) January 20, 2015
In all of this, it's worth remembering previous comments made by the Deutsche Telekom CEO about T-Mobile's strategy, calling it "one of the most impressive marketing stories I have ever seen".
What do you make of all the reactions to the story? Is it blown out of proportion? Does T-Mobile really need a buyer to survive?
Sources: ArsTechnica, Gizmodo, Twitter