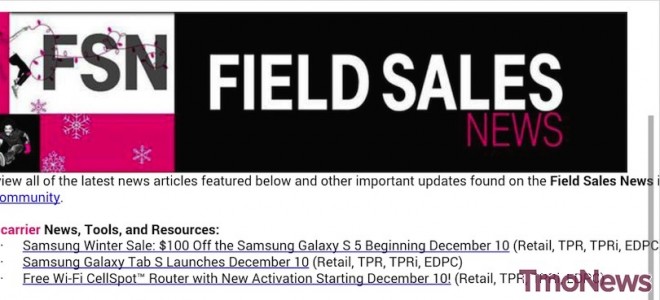 Recently T-Mobile brought an end to its unlimited data refer-a-friend offer, promising that exciting new plans were just around the corner. If our conversations with multiple sources are anything to go by, you will not be disappointed. The carrier is about to launch a number of new offers from tomorrow.
Until we get official word from T-Mobile, treat this as a rumor. However, the number of sources who confirm the same info and the inside memos we've seen virtually nails this as happening.
It wasn't that long ago that T-Mobile was offering an extra 1.5GB on its lowest two tier Simple Choice plans when 4 or more lines were purchased together. Now, it's about to throw out an incentive to get customers on its highest Simple Choice tier. From tomorrow, December 10th customers will be able to get two completely unlimited 4G LTE plans on the same account for $100 per month. That's a saving of $40 per month, as it's usually $80 for the first line and $60 for the second.
The unlimited plan comes with the Rhapsody unRadio subscription included, as well as the usual Simple Choice benefits, including unlimited music streaming on several music services. You also get 5GB per month allotted for tethering (Smartphone Mobile HotSpot service).
It's worth noting that taking two lines for $100 per month currently gets you two lines with 3GB of data on each. The difference is huge. You'll be able to surf, stream, download all you want and use a healthy amount of data using your phone as a hotspot.
Update: Here's in the in store promo poster being sent around retail stores: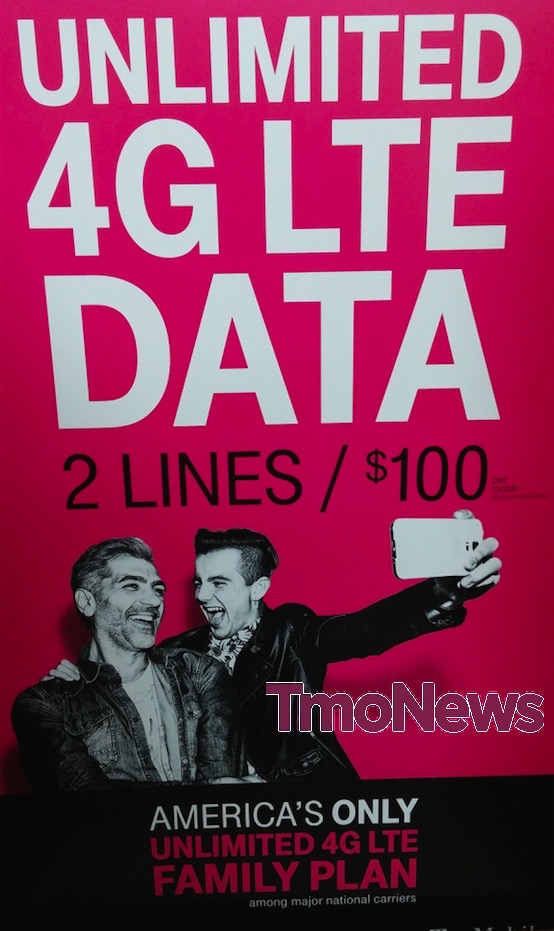 .
4 for $100 – But for 3GB per line, this time
[UPDATE: T-Mobile confirmed the offers were coming after we published this rumor piece. 3GB per line was incorrect information. It's the same as the old promo. Read up here.]
It's coming back, but it's better than before. T-Mobile's previous 4 for $100 deal gave families a total of 10GB of data to use (2.5GB per line) each month. This time out, customers will get 3GB of data on each line (an extra 2GB per line compared to the current 1GB allowance). That's a total allowance of 12GB for a family of four.
.
$100 off Samsung Galaxy S5
As well as the awesome savings on Simple Choice family plans, T-Mobile is also going to discount the Samsung Galaxy S5. Customers will be able to go in store, or order online and get $100 off the Samsung Galaxy S5 from tomorrow. As part of its holiday season deals, T-Mobile did have $50 off the S5. An extra $50 discount will take the price down to $560 full retail price, that's roughly $23.33 per month on EIP presuming that you don't pay any down payment.
.
Free CellSpot with activation
T-Mobile wants everyone to make the most of its Wi-Fi calling services, and wants to ensure that the optimized ASUS router is in as many homes as possible. That said, we've been told that the carrier intends to offer the CellSpot Router free to any customers activating a new line. We don't know exactly how that works, but it won't be long until we find out.
.
SIM Starter Kit going up to $15
A while back were informed that T-Mobile's SIM Starter Kit would be increasing in price from $10 up to $15. It was initially schedule to change on December 3rd, but just like the refer-a-friend deal end date, it's been pushed back a week and will be changing tomorrow.
 .
Of all the rumors, the 4 for $100 return is the one I'm getting least clarity on. Some sources have heard it's happening, others haven't. But all are agreed on the rest of the promotions. And they all start tomorrow. Let us know if you're planning on taking advantage. And – as always – we'll keep you informed when/if the deals are officially announced.