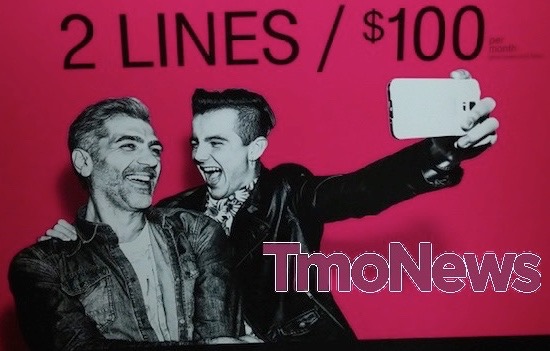 Just a short while ago, we got word that T-Mobile is planning to launch a number of attractive promotions from tomorrow, December 10th. Undoubtedly the biggest among them is the 2 for $100 unlimited 4G LTE Family Plan. It just so happens we've been able to get hold of some more information on this promotion.
As we suspected, the plan goes in to effect from December 10th (tomorrow). For those familiar with the current Simple Choice lineup, it's essentially the $80 unlimited plan, with an extra line added. 2 lines on this plan would normally set you back $140 each month, but from tomorrow you can sign up and pay just $100 per month. If you want more than two lines, you can add-a-line for $40 per line (the same price as it is now).
The plan will have all the usual features: 5GB tethering and Rhapsody unRadio included, and it's available to new and existing customers. This is particularly good news for those already on T-Mobile's network. It's unclear, however, if you'd have to pay off your current EIP to sign up for the promotional offer. Or, if you can just switch to the 2 for $100 deal. Since Simple Choice is contract-free, that is unclear. If I had to bet, I'd say you'd need to pay off the EIP.
Perhaps even better: This plan doesn't expire once you've signed up. Unlike the previous 4 for $100 deal which offered a data boost on 4 lines or more up until the first of January 2016. T-Mobile's internal communications on this plan state clearly that the "Rate Plan is grandfathered! No expiration for the customer!"
Once you've signed up to the deal, you keep it. But it's worth noting, that with the offer clearly being a promotional offer, the time you have to sign up and take advantage is almost certainly limited.
Staff are reminded to ensure that they add the correct SOC to each line when processing sales, to ensure that customers get their data.