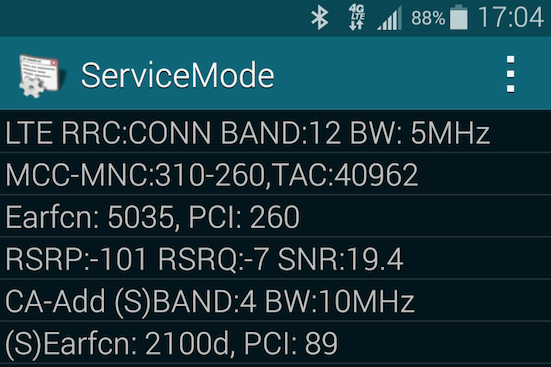 For the second time in as many weeks, we've been sent a 700MHz LTE sighting. Last time out, a reader got in touch with a sighting in Houston, Texas. This week, a cell site is seemingly either going live or being tested in Amherst, Ohio. A reader managed to get it showing up in ServiceMode on his Galaxy Note 4 (above).
T-Mobile's network chief, Neville Ray, on several occasions has indicated that the low-frequency network is already being tested and activated in a number of locations. Exactly how many, and in which markets, hasn't been announced officially. We've heard of a site going live in Long Island, as well as the Houston and Amherst ones. But I'd imagine there are many more. Since the number of handsets capable of logging on to them is small, it's not likely we're going to hear of that many sightings. That said, I'd be surprised if T-Mo didn't mention it in its next major launch event which – if the company follows last year's timing – will be at CES in January.
As well as rolling out 700MHz LTE and wideband 1700/2100MHz LTE, T-Mo's also been building out LTE networks using the 1900MHz bands. Perhaps the biggest market among those is the Cincinnati area which went live, officially, in October.
As always, keep in touch with us if you spot any network changes in your area. You can email me using cam@tmonews.com, and be sure to include screenshots and locations.
Thanks, Adam.