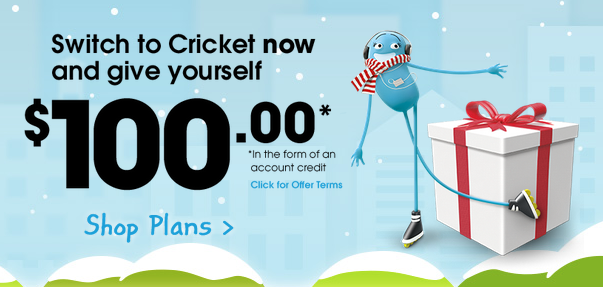 Right at the outset of this year, T-Mobile unleashed a revolutionary Uncarrier phase. Dubbed Uncarrier 4.0, they promised to pay off your early termination fee and give you money for your old phone if you joined Team Magenta. It wasn't a short term promo. It's an Uncarrier move which – by its very nature – is one released to change the industry. One that's here to stay.
Since then – and even before the official launch – other carriers, big and small have been releasing their own "copies" of the offer. Except they miss the key ingredient: permanence. Whether it's AT&T, Sprint or Cricket Wireless (AT&T company), they've each tried to incentivize switching carriers.
The latest of those carriers trying to tempt customers away is Cricket Wireless. AT&T's prepaid brand is offering $100 billing credits to customers who switch from T-Mobile, Sprint, MetroPCS, Cincinnati Bell, Boost Mobile and Virgin Mobile.
This is just a holiday deal by the looks of things. It ends on December 31st, 2014. Here are the terms:
Offer ends 12/31/14. $100 account credit is available only to Boost, Cincinnati Bell, MetroPCS, Sprint, T-Mobile, and Virgin Mobile customers who transfer their number to Cricket. Must purchase and activate a new line of service on a Basic, Smart or Pro rate plan. Limit one $100 account credit per qualifying line of service. Account credit applied approx 5 days before end of first month's service period.

Account must be active on a qualifying rate plan to receive credit; suspended or cancelled accounts are not eligible to receive credit. Lines added to Group Save (multi-line) accounts 5 or fewer days before the end of a bill cycle will receive account credit during the following month of service. Credits have no cash value, are not redeemable for cash or any cash equivalent and are not transferable or refundable. Account credits are forfeited if your account is cancelled. May not be combined with other offers.
The company is also offering a $75 discount on certain smartphones like the HTC Desire 510 or Lumia 635. It's all pretty enticing on the surface. But be sure to compare deals and coverage in your area before succumbing to any short-term promises of savings and free cash.
Read more on Cricket Wireless' offer page.