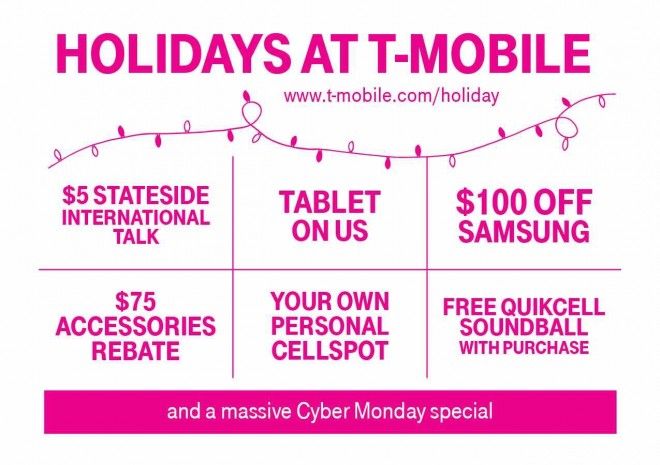 In a blog post by Chief Marketing Officer, Mike Sievert, T-Mobile revealed its full lineup of holiday deals. These include the free tablet, $100 off Samsung, $5 international talk, $74 accessories rebate and free QuickCell Soundball which were either confirmed by T-Mobile or which we reported on previously. So I won't bore you by going over those again… 
Right at bottom of the post is an enticing teaser. According to Sievert, T-Mobile is going to launch something pretty spectacular on Monday, December 1st. So spectacular that you should actually tune in to the T-Mobile deals site late on Sunday evening. 
"And there's more holiday goodness to come. Next up, Cyber Monday's right around the corner. Watch for a message from us telling you all about T-Mobile's very special Cyber Monday offer this Sunday at 8:00 p.m. PST – and then get your browsers warmed up for 12:01 a.m. PST on Cyber Monday, December 1st. "
Be sure to keep an eye on the T-mobile deals page over the next few days. We'll keep our ears on the ground, and let you know if we hear any rumblings before the special Cyber Monday deal goes live. 
Via: T-Mobile