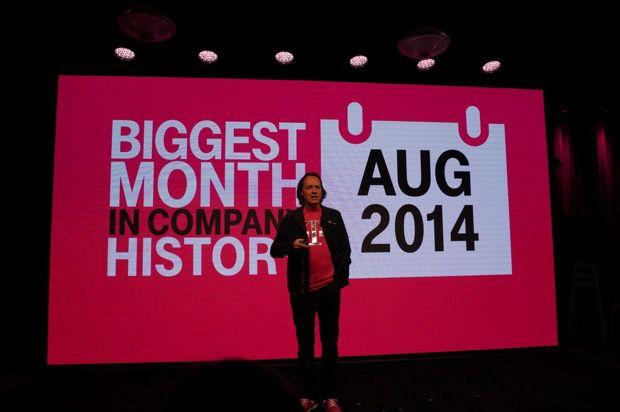 Speaking at the Goldman Sachs Communacopia Conference with Braxton Carter and Neville Ray, John Legere revealed more details of the company's August performance. Having already announced at the Uncarrier 7.0 event that last month was the company's best month ever, the popular CEO was keen to dig deeper in to figures, stating that the company "is on fire". From the event on Wednesday, we already knew the company had added more than 2.7 million gross adds in August. But we didn't have a clear indication on net adds, or the breakdown of prepaid, postpaid or branded additions.
In August alone, T-Mobile's branded net additions reached 760,000. Of those, 552k were branded postpaid net adds, making it their best ever month for branded net postpaid additions. The company also added 208,000 net branded prepaid customers. To help you get some sort of context on those figures, in the entire third quarter last year, the company added 672,000 net customers. In the second quarter of this year, it added 1.01 million branded net adds. Which ever way you look at it, August's figures are staggering.
"I think you get the gist–the company is on fire. It's going extremely well"
Clearly T-Mo's executives are delighted with the company's growth and will be hoping Uncarrier 7.0 boosts its ranks further. And it should do. Uncarrier 5.0 was designed to help people get a feel for the company's network performance by offering a test drive. Uncarrier 7.0 goes one further with the Personal Cellspot, and all the other Wi-Fi calling and texting offers by ensuring that even when you're out of signal, you can still keep in touch with friends and family. It's almost literally Un-carrier.
I for one am very much looking forward to hearing Q3's entire financial results, which should be revealed towards the end of October. Will T-Mobile be #3 carrier by the time the next earnings call happens?
Source: Fierce Wireless