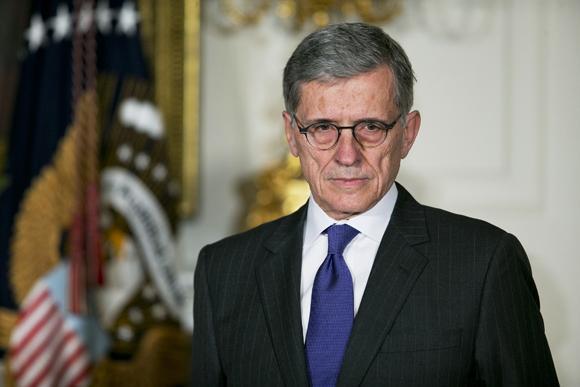 Not long ago it was reported that T-Mobile and Sprint were looking to form a joint venture in order to gain as much spectrum as they could in next year's major spectrum auction. The plan was, allegedly, that the two would raise $10 billion to ensure they walked away from the 600MHz auction with as much spectrum as possible. Turns out, the FCC has other ideas.
Tom Wheeler, FCC Chairman (pictured above), circulated new rules today, proposing that that the regulatory body bans all four nationwide carriers from teaming up to bid at the auction.
FCC Wireless Bureau Chief, Roger Sherman stated:
"If two of the largest companies are able to bid as one combined entity in the auction, their combined resources may have the effect of suppressing meaningful competition. Therefore, the item tentatively concludes that joint bidding arrangements between nationwide providers should not be allowed."
The commission still needs to vote in order to make the adjustments to the auction rules, but it's not likely that these changes will face much opposition within the FCC.  And although it doesn't mention a merger between T-Mobile and Sprint specifically, it would perhaps hint at the commission's attitude towards any kind of joining together of two major network operators.
And – of course – this isn't the first time the FCC has changed the auction rules. Earlier in the year it pushed through changes which would help promote competition between smaller carriers and hinder spectrum-hoarding by the two big players in the market.