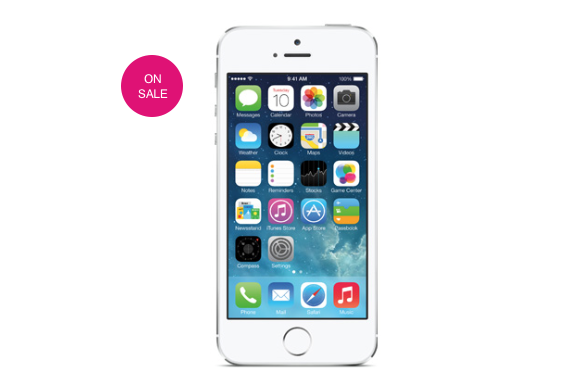 Yesterday, we got wind that T-Mobile would be discounting its iPhone range from today, and no surprises, the company has done exactly that. Every version of the iPhone 5s has been dropped by $48. The full off-contract price for the 16GB model is now $600, the 32GB model is $700 and the 64GB is going for $800.
Similar discounts have graced the iPhone 5c line too. Customers looking to buy the 16GB will be able to grab it for $500, $50 down from its previous price, while the 32GB – like the iPhone 5s – has had its price slashed by $48, bringing it down to $600. We're yet to see if older models are also being sold at a discounted price too. However unlikely, that would depend on whether or not  stores had any old inventory left over.
The devices are marked as being "on sale", so it's unclear how long the price-drop will last. If was to guess, I'd suggest T-Mo is trying to clear out some inventory in preparation of the onslaught of new smartphones being released between now and the holiday season. We're expecting the iPhone 6, Galaxy Note 4, Moto X+1 and Sony Xperia Z3 to be announced over the coming weeks, and once they're here, everything else will be old news.
The iPhones are the latest of a number of phones to have their prices cut. You can also pick up the budget-friendly LG L90 for just $100, and get $50 off the Galaxy S5.
Are you planning on picking up a discounted iPhone, or would you rather wait two weeks to see what Apple has up its sleeve?
Source: T-Mobile store