Cincinnati-ans, rejoice! Sensorly mapping would suggest that T-Mobile's network gurus have heard your prayers for LTE to arrive. A couple of readers got in touch with us to share the good news that downtown Cincinnati, OH has its first taste of LTE going live right now. Those beautiful purple splodges on the map below indicate areas where T-Mobile's ultra-fast network has been spotted.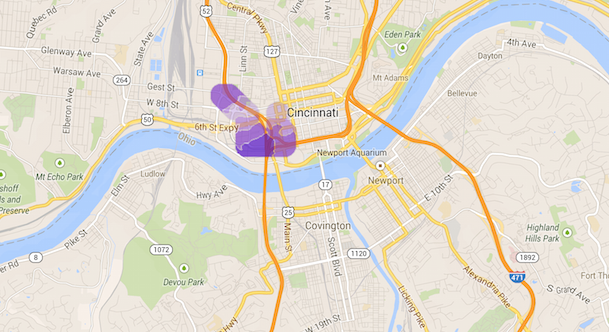 What's more, our inside sources inform us that Cincinnati should be full up and running on LTE by November. Perhaps even the middle of October, depending on how fast the network team can get all the work done. Perhaps more interesting is the network being used in the city. Unlike most markets, the LTE will be running on the 1900MHz frequencies (band 2), and not most commonly-used band 4 (2100MHz/1700MHz) or the new 700Mhz band 12 network.
So, if you're a Cincinnati local who's been holding out on switching to T-Mobile due to coverage, you could have a fast network fully operational by the time the holiday season swings around.