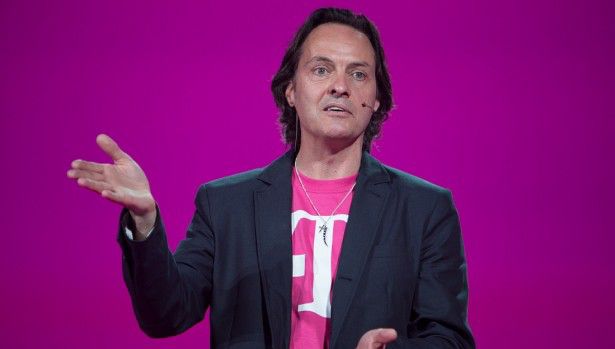 By now I'm sure you've all read, digested and formed your own opinions on T-Mobile's Q2 earnings report published this morning. To round it up, T-Mo's executives went over the highlights in one of its usual live-streamed conference calls.
Among the highlights were:
Tablet sales in Q2 were 5 times that of Q1 2014
6.2 million phones sold, 93% were smartphones
80% of postpaid customers are now on Simple Choice plans
$7.2 billion in revenue (up 4.5% QoQ)
$1.342 billion revenue comes from EIP payments
Total revenue growth is up 8% YoY
Service revenue growth is 7.1%, making T-Mo the fastest growing carrier. Again.
LTE now covers 233 million people in 325 metro cities, by mid-2015 that number will reach 280 million
A-block rollout has begun, and the carrier is already testing several devices
1900MHz LTE is also on air
Public speed tests show T-Mobile's network has an average download speed of 19Mbps, that's faster than any other network by at least 2.5Mbps. More than double Sprint's average.
17 metro areas are now covered with 15+15 or 20+20 Wideband LTE.
MetroPCS conversion from CDMA to T-Mobile's bands is well underway. Las Vegas and Boston, Hartford CDMA is shut down 2.5 years ahead of schedule.
As always, however, the question and answer session was the most interesting part of the conversation as analysts from various companies attempt to get more information than T-Mo is willing to give. One question was repeated by two separate financial analysts: If T-Mobile's doing so well, why does it need to merge with Sprint?
As you'd expect, Legere refused to comment specifically on any merger with Sprint. What he did say was quite illuminating. He's confident that even without a merger, T-Mobile is still the carrier that's bringing the competition to the market. It's still going to have a long and bright future if it continues making waves with its Uncarrier movements. That's not to say that the company couldn't benefit from short-term success found with consolidation. But he reiterated more than once that the company is looking at multiple opportunities. Sprint, then, isn't the only option. And success doesn't depend on becoming the third biggest carrier overnight.
His confidence is based on the mechanics behind how all the Uncarrier moves work. In particular, the offer to pay off other carrier ETFs (launched in January) seemingly has analysts dumb-founded as to how it could possibly turn in to a profitable program. Legere jokingly encouraged the analysts to continue writing reports that perpetuated this myth, to keep his competitors in the dark while he takes all their customers and makes money in the process.
Interestingly, if both T-Mobile and Sprint continue on their current trends, T-Mo could replace Old Yeller as the #3 carrier as soon as next quarter. We'll keep an eye on that one.
Read more: Q2 2014 results – Subscriber base up to 50.5 million
Read more: VoLTE now nationwide, A-block is active
Another touched-upon topic was the iPhone 6. Legere refused to use the name "iPhone 6" but, with a recent survey having predicted that 33% of wannabe carrier-switchers would move to T-Mobile, while not many would leave, a new Apple device would give the perfect opportunity. Customers would certainly leave their current providers when it came time to change to the latest, and greatest Apple device (should it arrive), especially if it meant getting it cheaper and having their early termination fees paid.
Like I've already mentioned in a previous post, there's a lot to be pleased with. John Legere is immensely proud of his team. The company has delivered on all fronts. It's selling more phones, more tablets, gaining subscribers, finally making money and is expanding and modernizing its network at ridiculous speeds. All is well in T-Mo land.
You can listen to a replay of the call by hitting this link. Some of the key slides are in a gallery below: