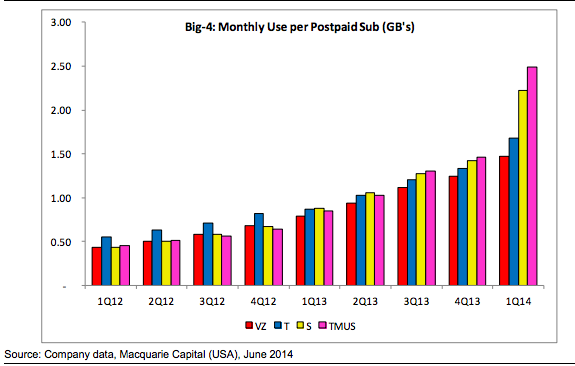 Over the past year, both Sprint and T-Mobile have made changes to their plans to make them more competitive, undercutting their main rivals and being more generous with mobile internet allowances usage. And it's starting to pay off – for the consumer – if data collected by Macquarie Capital is anything to go by.
In the first quarter of this year, T-Mobile users on average used over 2.5GB of mobile data each month, with Sprint not far behind. What's interesting is that – although the two carriers' users have been more data-happy for the past 3 quarters – usage suddenly jumped during Q1.
Part of it could be a sudden improvement in LTE coverage and data speeds which – when combined with competitive pricing – makes browsing and downloading even more appealing to consumers. In T-Mobile's case, it could be the sheer number of new subscribers switching from other carriers finally able to use as much data as they like (presuming they're on an unlimited plan). Or perhaps a lot of adventurous consumers seeing how far they can push the "unlimited" plan.
And – of course – a research/analyst firm can't publish data on T-Mobile and Sprint without mentioning the seemingly inevitable merger attempt. Macquarie's prediction: The deal has a 70% chance of approval. How they make such a specific assessment on the situation boggles my mind. There are a lot of variables, and given the DoJ and FCC's stance on the merger in the past, it would seem a lot less likely than 70%. Still, these are analysts, their sole purpose is to crunch numbers in order to help investors decide on which company they should invest in on the stock market.
Still, it's encouraging to see so much data being used on T-Mobile's networks. It's a sure sign that the oft-maligned network is strengthening.
Via: Quartz