Over the past few weeks, PCMag – in partnership with Sensorly, TmoNews and a handful of other publications – has been collecting all kinds of network, carrier and handset data from across the U.S. And you'll be pleased to know that – overall – T-Mobile scored very well. Particularly in LTE and 3G (4G HSPA) speed tests. As well as collecting data from real users, like yourselves, PCMag sent out three cars to 30 cities and performed extensive testing.
This year, we used LG G2 phones for seven of the networks we tested, all but the old Verizon CDMA network. Since the Verizon LG G2 cannot be set to CDMA-only mode, we had to use LG Vortex phones for that network.

We loaded the phones into three Ford C-Max hybrid cars, equipped with power inverters to run the phones all day long.

Sensorly's 2014 software ran several tests every three minutes: a ping to test network latency, multi-threaded HTTP upload and download tests including separate "time-to-first-byte" measures, and the download of a 1MB Web page with 70 elements.
Before we get to the results, it's worth looking at how they're calculated. As has been the case previously, the speed score is a weighted average: 70% speed and 30% reliability. T-Mobile scored really well nationwide, and could have done better if it covered more areas outside the major cities. As noted:
"T-Mobile was this year's big surprise. Last year, the company hardly had any LTE at all—this year, it covered all 30 of our test cities. If we never ventured out of those cities, it would've even been the winner. T-Mobile's metro-area network gets high marks for consistently delivering LTE-class speeds; we got downloads over 5Mbps more often on T-Mobile than on any other network. It can deliver peak speeds, too. With more than 20,000 crowdsourced tests, we saw maximum speeds of about 100Mbps and more than 2,800 tests above 50Mbps."
Overall then, T-Mobile finished 2nd nationally with a score of 85/100 for its LTE network. Its average download speed was 16.8Mbps, and an average upload speed of 9.7Mbps. It only scored lower than Verizon for downloads, and is the fastest network for uploading finishing just above "Big Red", which scored an average 9.3Mbps.
If we were just looking at 3G networks (HSPA/HSPA+), T-Mobile would be top of the pile, and quite convincingly. With an average speed of 8.6Mbps, T-Mo's network was faster on average than Sprint's LTE. It finished with a score of 65/100. The story was similar when broken down in to regional chunks too. Verizon was best in all regions, except North West, in which it tied with T-Mobile.
T-Mobile did fairly well in customer satisfaction too. At least, when compared to the other 3 big carriers. However, all major four carriers finished some distance behind the smaller network operators. Consumer Cellular finishing top for satisfaction, with a score of 8.7.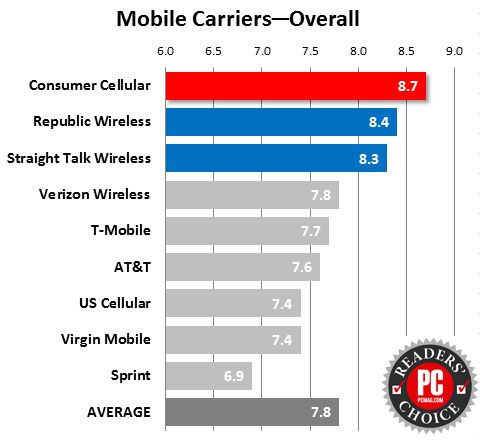 For a full breakdown, and a look at the interactive map, be sure to check out the original in-depth report over at PCMag.com. It's certainly worth a read, and shows just how much T-Mo's LTE network has improved in just over a year.
Source: PCMag