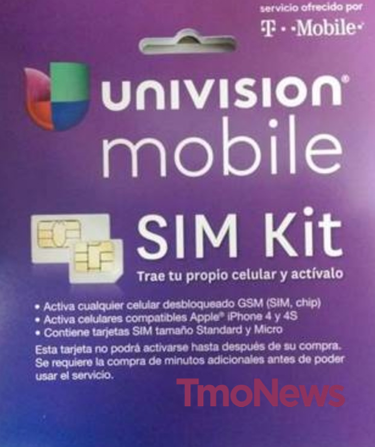 Univision has been on something of a roll this past few days. In one major announcement, it's teamed up with Simon Cowell's SYCO Entertainment to discover the "Ultimate Latino Boyband" with a "La Banda". It's also hosted its Upfront conference. But we've just been told about another new initiative the company's going to be launching within the next week.
We've heard that the company is partnering with T-Mobile to launch a new MVNO (Mobile Virtual Network Operator) named Univision Mobile. Our source (who shall remain anonymous) tells us that the announcement will be made on May 19th, just 6 days from now. We don't have any details on plans or any further specifics, except to say, it's happening and there's SIM card kit packaging to prove it.
For those who don't know, Univision Digital is the #1 multi-platform site for Hispanics in the US. It has an average of 6.7 million multiplatform unique visitors each month and consistently attracts a larger audience than any of its competitors. In short: It's massive. What's more, the audience is very social. So this is a huge deal for T-Mobile. By partnering up with Univision, it's immediately opened up its brand to an entire portion of the market who are already very loyal to Univision.
As a report by Forbes recently stated:
"If that doesn't tell you where culturally relevant content is headed – the Nielsen study revealed that if US Hispanics were a standalone country, their market buying power would be one of the top twenty economies in the world."
The report also states that Hispanics consumer will generally build loyalty with a brand that properly represents them and their cultural nuances and identity. Something which Univision has shown it clearly does. And one which T-Mo is smart to be taking advantage of.
Of course, while we're pretty certain this is happening, it's still just a rumor for now. Hold on for the official announcement at another date. But, the fact that there are Univision Mobile SIM kits floating around with T-Mobile branding printed on them kind of says it all. We'll bring you more if we hear it.