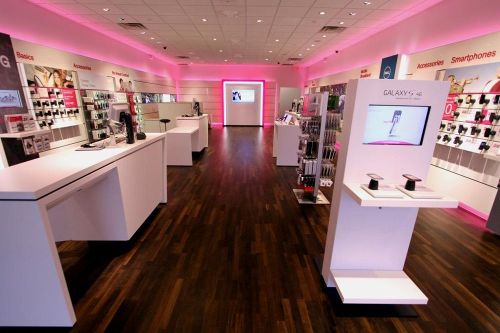 Yesterday we pulled together bits and pieces of information we had on the planned changes to T-Mobile's Advantage Corporate Discount scheme. As part of those changes, we'd heard that customers who signed up before February 3rd were able to keep theirs. Turns out, that's not the case. We were sent an internal documents with all the information set out for staff, giving them the low down on what was changing, and how they can respond to the inevitable frustration of customers' whose discount disappears.
It's worth noting that although plans to change the enrollment system take effect on March 31st, monthly discounts for existing customers don't go until April 25th.
Key Facts:
Monthly Discount is being discontinued for every company/organization except military and government
Existing customers with monthly discount will stop receiving it from April 25th
Feb 3rd date mentioned yesterday makes no difference. All recipients of the monthly discount will lose it (except military and government)
Adjustments to customer bills will begin showing on first bills after May 25th
Companies participating in T-Mobile Advantage will provide their employees with a $25 reward card
From March 31st, customers affected will begin receiving notifications through the mail
For those who currently receive the discount, this is going to sound like bad news, regardless of how T-Mobile tries to spin it. To suddenly no longer get 15% off per month makes a huge difference, particularly if you have multiple lines. But with Tmo pushing the boundaries in terms of value for money on plans, offering to pay ETF's for customers switching and $0 down on all its phones, it needs to ensure its revenues and profits are still strong. This – along with recent changes to JUMP! and Simple Choice plans – is an effort to give more financial stability.
Full details are below:
Note: The Advantage Program monthly discount will be discontinued for all groups except MILITARY and GOVERNMENT (If customer is employed by the Federal Government, State or Local government agency there will be no change to their monthly service discount.

All other members will no longer receive the MRC discount but may receive their new benefits starting March 31st if they qualify for the $25 Reward Card when they activate new line/s (handset purchased), add-a line (handset purchased), or upgrade- given their company/organization has an agreement with T-Mobile.

As the Un-carrier, we are dedicated to giving all customers the freedom to live their mobile life. We want to keep it simple – no annual service contracts, the best value in rate plans on our Nationwide 4G LTE Network and access to amazing devices whenever you want. Because we've invested so much into making our Simple Choice rate plans the best value in wireless, starting on March 31, the Advantage Program will be simplified so that enrollment will managed through the company's corporate order portal or by visiting www.t-mobile.com/advantagerewards. Companies participating in the Advantage Program will either provide their employees with a $25 reward card or a monthly service discount.

Starting March 24, Sales Associates will no longer need to determine customer eligibility for the Advantage Program in store and instead should direct customers who inquire to their company's website or to the www.t-mobile.com/advantagerewards. This will allow for a seamless customer experience that is aligned with the appropriate offer.

What's Changing

Beginning March 31, enrollment into the Advantage Program will be handled though the customer's company corporate order portal or through www.t-mobile.com/advantagerewards.

Sales Associates will no longer be able to enroll customers onto the new Advantage Program in store.
Eligible customers who activate a new device or upgrade in-store have 30 days to enroll in the new Advantage Program to qualify for the reward card.
Starting April 25, existing Advantage customers will no longer receive monthly discounts.
Direct mailer notifications will be sent to impacted customers starting March 31.
Customers will see an adjustment reflecting the removal of the monthly service discount starting on the first bill received after May 25.
Note: A new Advantage Program Grab & Go is available for a one-page overview of the updates to the program.
Simple Choice and Better Value

Use these ARM statements to respond to customers who specifically inquire about the new Advantage Program and to help explain why T-Mobile's Simple Choice still offers the best value for customers that were enrolled in the previous program:

I currently get a corporate discount with Verizon. Does T-Mobile do that? – "I'm glad you asked. T-Mobile gives all our customers the greatest value possible by offering competitive rate plans that include unlimited talk, text and data, no matter where you work. It's easy to learn about our Advantage Program, you can check the enrollment website on your own to see if your company participates and what the offer includes. Let's take a look at some of our newest devices!"

Why did my monthly discount get removed? – "I can understand why changes to the program can be frustrating, so I'll tell you about the changes. Our Simple Choice plans now come with more data, international text messaging, and more countries included in our global network…all of our customers benefit regardless of who they work for. With the new Advantage Program, each participating company may provide a $25 reward card or a monthly service discount, which would provide an additional value on top of the plans that we just discussed. Now let's take a look at your account and review your current plan and features."
UPDATE: John Legere blog – "Fairness and Freedom" 
Just a short update. John Legere posted to T-Mobile's blog to mention the changes. He paints it as being another move towards changing the way the industry in the U.S. works:
"The old programs were designed to help big carriers close big corporate contracts, with employees as bargaining chips.  We aren't playing that game anymore.  This change is about simplifying wireless for everyone … including employees of small and large companies alike."
I'm sure that, to those losing a lot of discount, these words won't be entirely comforting. Head on over to this link to read Legere's announcement.