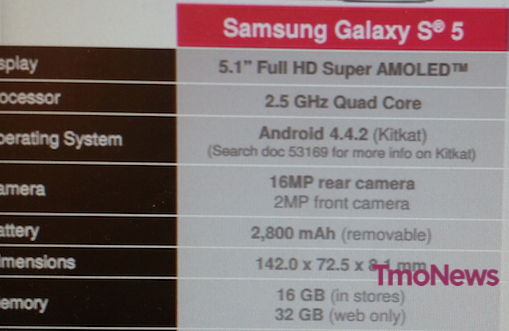 We're closing in – albeit far too slowly – on the public release of the Samsung Galaxy S5. We already know that T-Mobile is going to be selling it from April, and that the company received 300,000 pre-registration form requests, thanks to a giveaway promotion. We have an indication as to the price, but what we didn't know for certain was which models would be sold by Tmo.
Thanks to an internal memo (full image below), we now know that Magenta is planning on selling both the 16GB and 32GB models. The news does come with a caveat however. Only the 16GB model will be sold in stores. If you want the higher storage model, you'll need to order it online.
The Samsung Galaxy S5 has been slated for an April 11th global launch in 150 countries. As for Tmo's plans, we haven't heard a definite date yet. But as soon as we do, we'll be sure to let you guys know.