HTC's next One has been the subject to incredible speculation an leaks over the past couple of months. In fact, I've purposefully not shared all the leaks with you. If you think reading about them over and over again gets boring, you should try writing about them. I've done it with the iPhone over at TodaysiPhone.com for years, and it gets old pretty quickly. Regardless, this past week has seen a lot of high quality images. Sadly for us Tmo fans, the poorest quality video was reserved for the Magenta-flavored version.
Published by YSLMixtapes on YouTube:
Although the quality of lighting and video may not be the best, there have been a good number of pictures posted with various different carrier-branded models, Including China Mobile and Verizon dummy model.
Thanks to leaked images of the retail packaging (sorry, Verizon again), we also know the specs of the device in question. It has a 2.3GHz quad-core processor, 32GB storage with 2GB RAM. On the front is a full HD (presumable LCD) 5-inch display and a 5MP front facing wide-angle camera as well as the iconic BoomSound speakers. On the back is a Duo Camera to be used for adding extra depth of field to your shots.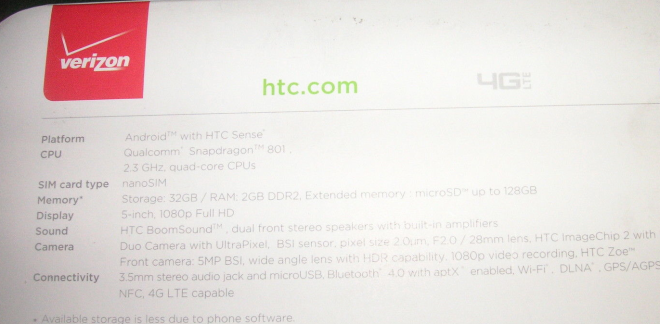 Thankfully, we'll all be put out of our misery as HTC will be officially announcing the long-rumored device at an event on March 25th. During that event I'm certain we'll get release dates (global/general ones at least) and a better idea of what all these features add up to.
As it stands, will you be picking up a Galaxy S5 or the new HTC One?
Leaks via: NowhereElse, GSMArena 1 and 2