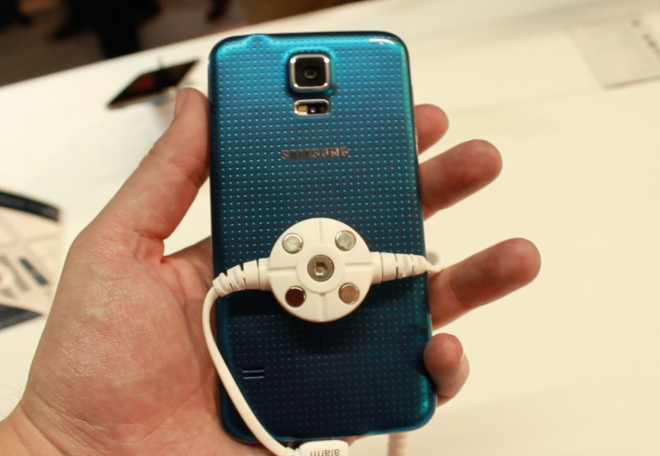 If you head on over to T-Mobile.com, head in to the "shop all phones" section and you'll spot a nice little headline placeholder for the Samsung Galaxy S5. Click "learn more" and you'll be able to pre-register your interest to be one of the first to know when it's coming, and how much it's going to cost. Also, you'll be entered in to a draw to win a free Galaxy S5 and S-View Flip Cover.
"Samsung Galaxy S 5 Coming Soon to Both T-Mobile and MetroPCS 

The Next Big Thing Is Here – introducing the Samsung Galaxy S® 5, coming to T-Mobile and MetroPCS this April.

The Galaxy S 5 offers a stunningly clear, 5.1 inch HD screen bringing movies, games and entertainment to life and delivers the ultimate viewing experience. The Galaxy S 5 also offers brilliant camera features that are intuitive, delivering point and shoot perfection. Running on America's Fastest 4G LTE network and equipped with Download Booster, which combines Wi-Fi and T-Mobile's 4G LTE connection for downloading large files, the Galaxy S 5 gives you fast, easy access to videos, photos and content. The Galaxy S 5 also offers S Health™ which enables consumers to access health info, track and map workouts and make and track healthier eating choices right on the device.

Additional information, including pricing and specific availability will be shared in the coming weeks."
Sadly, it's the information you really want to know that we're not certain on yet. Specific date and pricing aren't known. I've also been asked by a few if it's compatible with the 700MHz spectrum being rolled out by T-Mobile later this year. I also don't know the answer to that yet either. But, as soon as I get any confirmation on any of those, I'll be sure to update you all.
What do you guys think of the phone from coverage so far? I've seen a lot of "not great" and "not as much as I was expecting". Me personally, Samsung improved the parts I felt it needed too. Firstly, its rear cover feels fantastic in hand. Much better than the shiny, horrible plastic of previous gen Galaxies. Secondly, it's water and dust resistant. Thirdly, great update to the camera hardware. Faster AF, intelligent contrast adapting and HDR will make its images so much better. Of course, it's a great battery and even more impressive power control features too. Along with the Gear Fit, it's by far the best thing I saw at MWC this past weekend. In terms of networking performance, it can hit up to 150Mbps on LTE cat 4.. Which is insane.
Still, I'm eager to hear your thoughts on it. I've got my eye on the Electric Blue version. To pre-register for updates, hit this page.