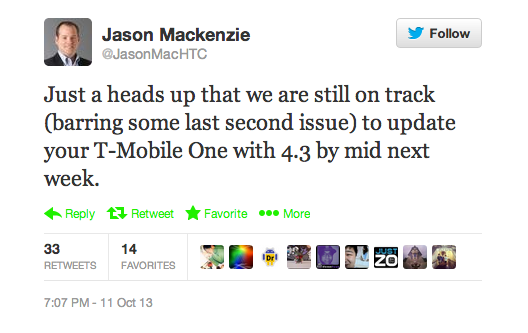 Earlier this month HTC teased the masses with a tweet on the Android 4.3 update for their flagship HTC One. The tweet, posted on October 2nd offered up a mid-October date for T-Mobile and now HTC is ready to make good on that timeframe. A tweet late yesterday from HTC America President Jason Mackenzie stated the T-Mobile update should release "by mid next week." Of course Mackenzie prefaced that with a warning: "barring some last second issue" which makes perfect sense. We all know that last second hiccups can happen with updates so the comment isn't any cause for concern.
The update will include new lock screen widgets, numeric battery levels in the status bar, a new quick settings panel in the notification bar, options to configure the home button (hooray), improvements to the camera (always welcomed), and an easier to manage file format for Zoe clips.
Sounds like a good way to start the second half of October.