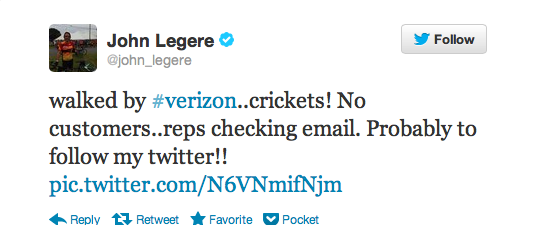 Ok, if you had the chance to sit down one-on-one with T-Mobile CEO John Legere, you might ask for better phones, (even) cheaper rate, improved service or something else you want T-Mobile to do better. Still, if you're a social media junkie like me you might recognize that Legere has quickly become the most interesting and active wireless executives in recent memory. With the knowledge that I doubt we'll ever see Dan Hesse (Sprint), Ralph de le Vega (AT&T) and Daniel Mead (Verizon Wireless) walk, talk or act like Legere, you should be following @john_legere on Twitter now.
Sure, Verizon stores are often busy and with 2.5x the customer base, I don't think anyone disputes that. Either way, you have to love the jokes Legere is putting out and his approach is certainly winning fans for both himself and Magenta.
I mean, can anyone imagine Philip Humm (the last CEO of T-Mobile) on Twitter, never-mind taking daily shots at the competition? I didn't think so.