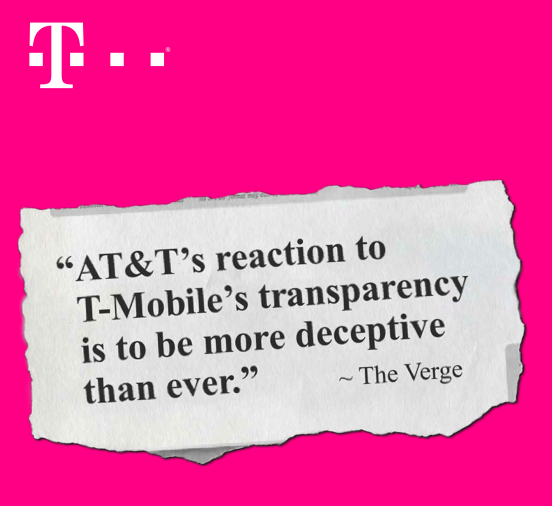 T-Mobile's not laying down on hitting at AT&T's early upgrade program even after T-Mobile's CEO takes a series of shots on Twitter. In a new ad that is set to run in USA Today tomorrow, T-Mobile takes a swing at AT&T's "calculating, sneaky, underhanded but not deceptive" early upgrade program. I'd call it deceptive and I'd say that AT&T must have the best accountants to earth to try to spin their plan and make it seem as thought it benefits their customer base by paying both the subsidy price tucked into your rate plan and then a monthly installment.
The ad itself takes a quote from a Verge article which all but called AT&T's ridiculous mathematics in trying to show its new "AT&T Next" program as a "good deal."
T-Mobile's JUMP! program was launched back on July 10th and was met by mostly positive reviews from the press. The program itself allows customers pay a $10 upgrade fee to upgrade their phones up to twice a year by trading in their old phone model.
In a statement to All Things D, T-Mobile CMO Mike Sievert stated:
"There are real and material differences between what we are doing and the so-called upgrade programs that AT&T and Verizon are doing," T-Mobile marketing chief Mike Sievert said in a telephone interview on Monday.
Sievert called the programs from AT&T and Verizon "are a mechanism for AT&T and Verizon to take more money from customers than even those companies have done before."
While the jury is still out on just how good of a deal T-Mobile's JUMP! program truly is, there seems to be unilateral consensus that T-Mobile's program far and away the least worst of the 3.
Expect to see more ads from T-Mobile taking aim at Verizon on Wednesday.