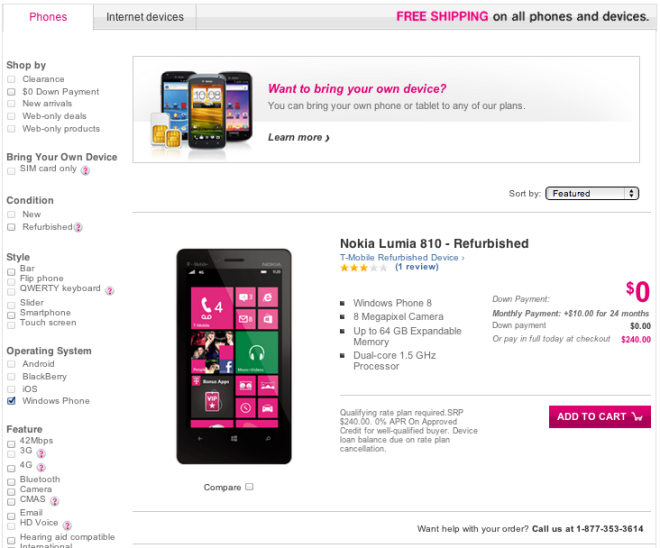 Anyone who thought Windows Phone didn't have some passionate followers on T-Mobile should peep my inbox right about now. We're not sure what's going on, but clearly enough of you have noticed one way or another that T-Mobile's website is now devoid of Windows Phone. We're not the only website taking note as the folks at WPCentral caught it yesterday, but all Lumia 810 and Windows Phone 8X are gone from T-Mobile's website. Well, that's not entirely true — the only lingering remnant that either of these phones ever existed on T-Mobile is a refurbished model of the Lumia 810. Word has it neither device were big sellers, but that still doesn't offer enough insight about why the phones are gone altogether?
T-Mobile is set to carry the Lumia 521 later this month, but that device is far cry from "higher-end" devices like the Windows Phone 8X or even the Lumia 810. Both devices outpace the Lumia 521 as far as specs go on paper and ultimately look toward two separate markets. The Lumia 521 leans more toward introductory smartphone owners and Monthly4G users against the 810/8X which were geared more toward existing smartphone owners.
So what's the bottom line? If both devices are selling poorly, and with rumors of the upcoming Nokia Catwalk hitting later this summer, it's possible we won't see either device return to store shelves.
I've emailed T-Mobile to see if there is any official word on the disappearing Windows Phone 8 devices and will update the post when I hear back.