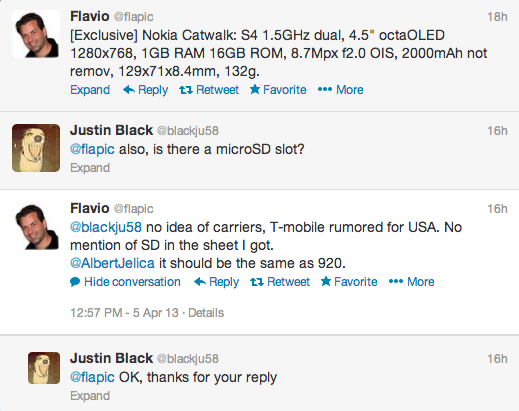 With all of our attention on the iPhone, HTC One and Galaxy S 4 lately it's easy to forget that there's still at least one rumored flagship Windows Phone 8 device rumored for T-Mobile shelves. Now, thanks to Italian blogger Flavio we're getting what could be our first look at a list of "confirmed" specs for the device.
According to Flavio's tweets from yesterday, the Nokia Catwalk also known as the Lumia 928 will sport a Qualcomm S4 1.5GHz dual-core processor, 4.5″ octaOLED 1280×768 display, 1GB RAM, 16GB internal memory, 8.7 megapixel f/2.0 camera, 2000mAh battery all weighing in at 132grams. Major differences from the Lumia 920 include a slimmer form factor from 10.7mm to 8.4mm in thickness.
According to Flavio, the Catwalk will be unveiled May 15th with a release coming in late June. T-Mobile continues to be rumored as a carrier partner in the US along with Verizon, as  seen by a picture unveiled last night by @evleaks, seen below. Unfortunately, the Verizon image doesn't show off the rumored aluminum body we first heard about in late February but that's not to say T-Mobile wouldn't end up with different hardware. The rumors tie in nicely as some have speculated about an upcoming LTE-capable Windows Phone launch after comments made by T-Mobile's CEO on Bloomberg television.
With so much attention on Android, BlackBerry and iOS in recent months on T-Mobile, it's nice to have a bone to throw to Windows Phone fans wishing for LTE love.