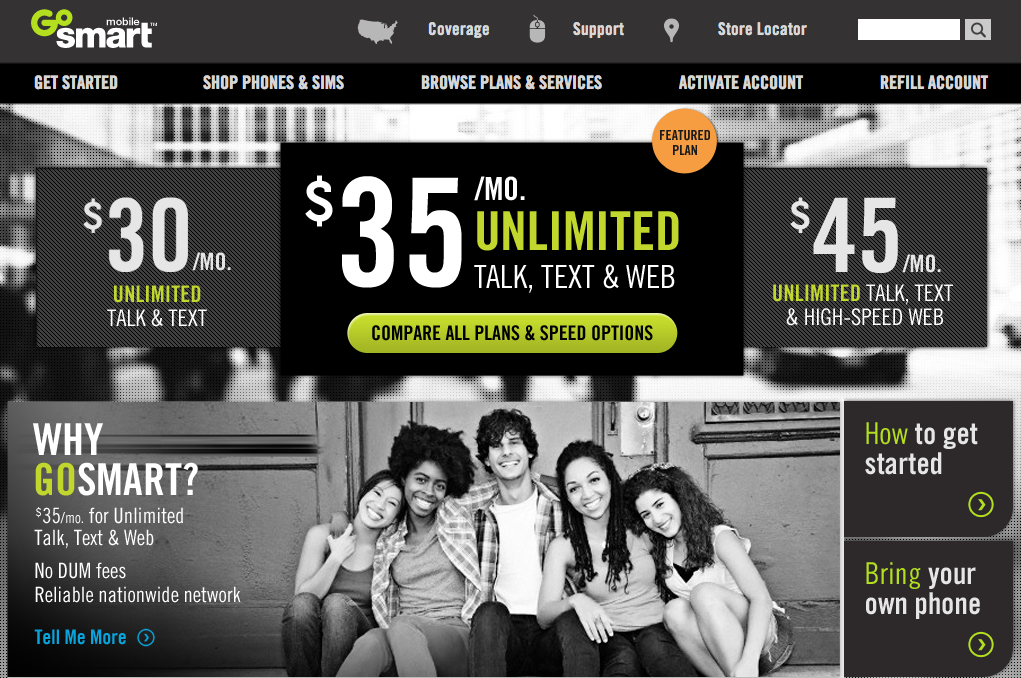 T-Mobile's continued foray into prepaid offerings is expanding a little more this afternoon as their new GoSmart Mobile prepaid network launches nationwide — for real this time. GoSmart Mobile will now be available at more than 3,000 resellers nationwide with the very same plans that continue over from the trial period. That means a $30 plan with unlimited voice and text messaging, a $35 plan that offers 2G web browsing along with unlimited voice and text, and a $45 plan that offers 5GB of 3G data along with unlimited voice and text.
Customers are welcome to bring their own GSM devices to the network and purchase a SIM kit, or choose from an Alcatel feature phone or low-end ZTE Android device, which runs Gingerbread.
GoSmart takes a new approach to wireless service: ultimate affordability and simplicity. With unlimited plans starting at $30/month, GoSmart takes the headache and hassle out of wireless. No DUM hidden fees. No DUM annual contracts. No DUM surprises. Just unlimited talk, text and data at a price designed for budget-conscious consumers.
The full press release follows below:
GoSmart Mobile Launches Nationwide No-Contract Wireless Service for Budget-Conscious Consumers
Unlimited Plans Starting at $30 per month – Without "DUM" Hidden Fees or Annual Contracts
BELLEVUE, Wash. — Feb. 19, 2013 – It is time for FreeDUM in wireless.
GoSmart Mobile today announced the nationwide launch of its no annual contract wireless service for budget-conscious consumers, ending the era of DUM™ hidden fees, roaming charges and overly complicated annual contracts. GoSmart, a new brand from T-Mobile USA, offers affordable, no annual contract plans on a reliable nationwide network starting at just $30 per month.

With GoSmart, wireless customers get what they need – great savings and flexibility without the hassle. For example, customers have the choice of purchasing an inexpensive SIM kit to use in their own compatible mobile phone or they can buy a low-priced GoSmart phone. In addition, all GoSmart services are offered without limits. No DUM caps. No DUM overages. Just a very affordable service for calling, texting and Web surfing.

GoSmart is available online at www.GoSmartMobile.com and at thousands ofdealer stores across the nation.

"You don't need food bigger than your face, and you don't need mobile phone plans that charge you more than you can afford for services you don't want or need," said Doug Chartier, senior vice president of marketing for GoSmart. "GoSmart is one of the simplest, most budget-friendly options in wireless, with unlimited plans on a reliable nationwide network starting at $30 per month."

GoSmart's launch comes as the no annual contract market continues to grow at a steady pace, fueled by cost-conscious consumers looking to reduce what they spend each year for wireless  service. The number of no annual contract customers in the United States is expected to reach 80 million by the end of 2013 and grow an average of 7.4 percent per year until 2016, according to a report from market research firm IDC.

"The influx of data services, coupled with the traditional flexibility and value of no contract plans, has considerably increased consumer interest in the no annual contract wireless market" said John Weber, Associate Research Analyst at IDC. "Customers often look for unlimited service plans on a robust network, while simultaneously limiting monthly wireless expenses. GoSmart represents a viable option for consumers to consider."

 

Pricing and Availability

 

GoSmart offers three simple plans with no annual contract:

 

$30/mo. Unlimited Talk and Text
$35/mo. Unlimited Talk, Text, Web
$45/mo. Unlimited Talk, Text, High Speed Web (3G)ii

A GoSmart Mobile SIM kit, which can be used with any compatible GSM phone, costs $8. If customers want GoSmart branded devices, there are two options currently available for less than $100.

In addition, GoSmart customers can add unlimited international texting to more than 200 countries for just $5 per month, unlimited international texting to more than 200 countries and unlimited landline calling to 50 countries for just $10 per month.

About GoSmart Mobile

GoSmart Mobile is one of the best values in wireless. The no annual contract mobile service seeks to eliminate DUM™ contracts, hidden fees and surprises through simplified pricing and plans. Built on a reliable nationwide network, GoSmart provides unlimited talk and text for $30/mo. and unlimited talk, text and Web for $35/mo. or $45/mo. GoSmart Mobile, provided by T-Mobile USA, can be found in thousands of dealer stores across the nation. For more information, please visit: http://www.gosmartmobile.com.