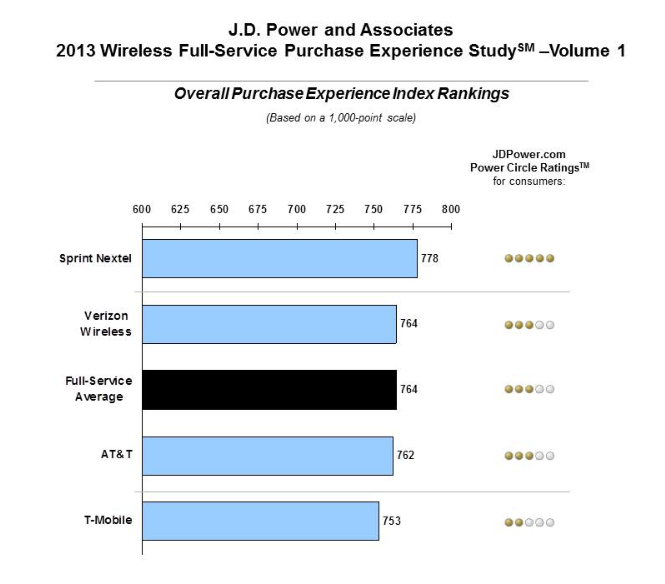 I suppose on the one hand, when you're in last place, there's nowhere to go but up and that's hopefully exactly what T-Mobile will do in the very near future. Still, even if T-Mobile makes a drastic turnaround in the future, it won't erase the memory that T-Mobile is clearly in a customer service slump with a spate of last place finishes in recent JD Power surveys.
The newest JD Power survey ranks the "Wireless Full-Service Purchase Experience" during a a six month period lasting from July to December 2012. During that time more than 7,777 respondents evaluated the wireless purchase experience through phone calls with carrier representatives, visits to a retail store, and online. Customer satisfaction is determined using six factors, in order of importance: store sales representative; website; phone sales representative; store facility; offerings and promotions; and cost of service.
For the fourth consecutive period in a row, Sprint took the top spot finishing ahead of Verizon, AT&T and T-Mobile. The separation gap between Verizon and AT&T is surprisingly slim given Verizon's generally well ranked company owned retail stores. T-Mobile clearly has their work cut out for them on the customer service front and we're hopeful that a huge part of their move to the "uncarrier" is a massive revamp of the Magenta shopping experience.
Read the full JD Power study at the link below: