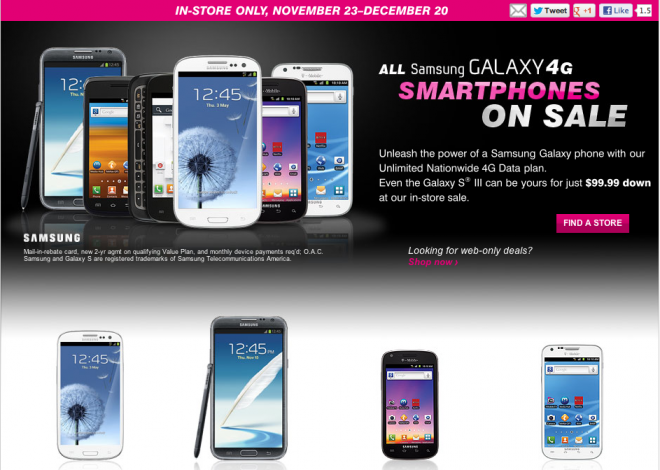 T-Mobile's 'Samsung Holiday Sale' is being extended from this past weekend, with a twist that lends toward those of you already on or looking to move to Value Plans. I've said this before and I'll say it again, Value Plans are T-Mobile's future and I have complete belief that we'll see more and more sales solely focused on Value Plans in the future.
That being said, T-Mobile is focused on providing Unlimited Value and Unlimited Nationwide 4G data plan customers with a special offer on Samsung's 4G device including the Galaxy S III and Galaxy Note II. The offer is good for both new customers and existing customers with qualifying upgrades. Standard migration fees will apply for existing Classic customers who want to switch to a Value Plan and have less than 18 months of upgrade tenure. A two-year agreement is required as well the Unlimited Value and Unlimited nationwide data plan.
Offering customers a worry-free experience, T-Mobile's Unlimited Nationwide 4G Data plans feature no data caps, no speed limits and no overages, with dependable nationwide 4G coverage at an affordable rate. For more details about T-Mobile's Unlimited Nationwide 4G Data plan, visit http://www.T-Mobile.com/unlimited-data-plan.
You can learn more about the sale at T-Mobile's deal site and begin planning which phone you'll scoop up.
Sample pricing: