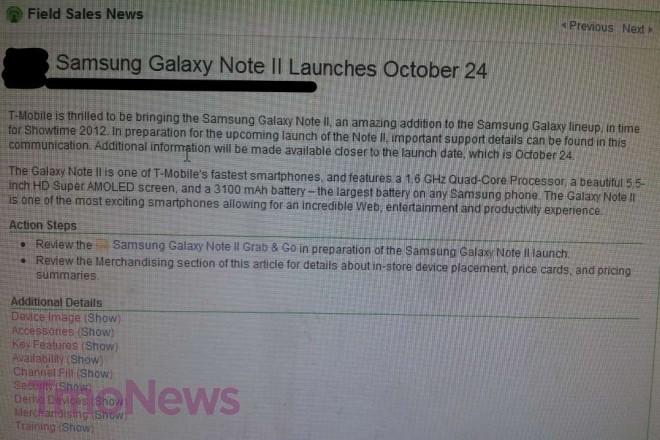 It's a beautiful start to the week as the above image just landed in my inbox confirming the October 24th launch date for the Galaxy Note II. The "confirmation" of the launch date comes the day after we discover the purported pricing of the Note II as $379.99 for Classic/Legacy plans and $299.99 down payment on Value Plans. Still, don't forget Walmart's $299 price tag as a way around T-Mobile's seemingly high price.
Regardless of cost, the Note II is likely to sell at any price as Samsung's newest high-profile launch, the smartphone/tablet combo device combines the best of both worlds into one powerful device capable of keeping you connected and organized. Keep your eyes on the blog as we've got a full gallery spread coming up as T-Mobile stores begin receiving their Note II inventory as they prep for launch later this week.
On a related note, we've received a glimpse of the upcoming accessory lineup T-Mobile will stock for the Galaxy Note II, which unfortunately will not be available at launch. We're not certain why the accessories won't all be available at launch, but given that this isn't the first time we've seen a similar scenario, we're not concerned. At the very least, you can set your plans (and dollars) aside to scoop up what you want when it arrives.