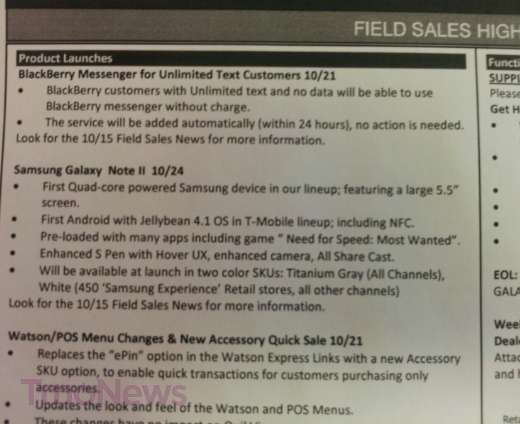 Like all release dates that leak out, we'll remind you that these dates are subject to change without notice, but we're pretty confident an October 24th launch for the Galaxy Note II isn't far off. Given that date is the same day Samsung is holding their own launch event in New York City, it doesn't seem unreasonable that Samsung and/or T-Mobile would choose that day to stock store shelves.
As a quick reminder, the Galaxy Note II is the first quad-core powered Samsung smartphone/tablet/phablet in T-Mobile's lineup with a 5.5" display and the first Android device to launch with Jelly Bean Android 4.1 preinstalled. The Note II will come with the typical amount of  "bloatware" including "Need for Speed: Most Wanted."
The good news is that many of you will be excited to learn that the Note II will launch in two colors: both Titanium Gray and White. Unfortunately, we still don't have any detailed information on price but with T-Mobile emphasizing more info will arrive on 10/15, hopefully we'll know then.