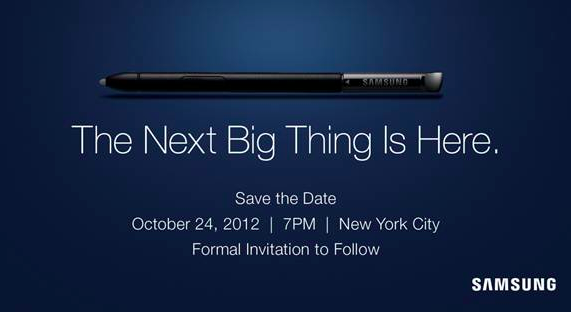 Samsung just sent out a "Save the Date" for October 24th, teasing the "Next Big Thing" with an S Pen front and center. Without any additional details, we're left to guess what this could be, but we really can't imagine it being anything other than the Galaxy Note II. Our money is on a US focused Galaxy Note II special event launch and hopefully we'll get some concrete dates and pricing details this evening as well.
On a separate but related note which I was typing up just as this invitation hit my inbox, Samsung isn't wasting any time setting expectations for the Galaxy Note II thanks to a new Bloomberg report. Samsung's Mobile head JK Shin expects the device to sell three times faster than its predecessor. The Note II will go on in sale 128 markets and 260 operators, including T-Mobile and four other US carriers. With the first generation Galaxy Note selling 1 million units shortly after introduction and going on to hit 10 million units in August of this year, Samsung has high expectations the Note successor will far outpace those sales numbers.
With an announcement coming in late October and a launch coming shortly afterwards, are you ready to make the Galaxy Note II the top "want" on your holiday shopping list?