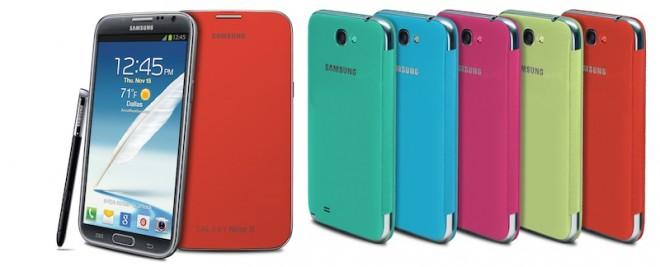 Now this is how we like to start our mornings as Samsung announces the release of the Galaxy Note II inside the US for all four major US carriers and US Cellular. The Note II will be optimized for US networks with 4G LTE and HSPA+42 connectivity, 1.6GHz quad-core Exynos processor, 2GB of RAM, 16GB of storage, microSD slot, enhanced S Pen and S Pen apps, and a larger, thinner, lighter form factor than its predecessor.
Unfortunately, Samsung hasn't revealed specific dates or pricing, but Samsung clearly is ready to put its best foot forward going into the holiday season with two flagship devices on every major US carrier.
The press release confirms the Galaxy Note II will ship inside the US with Android 4.1 Jelly Bean pre-installed, and you did read that right, the quad-core exynos processor is paired with HSPA+ connectivity, which is fantastic, but we had a little sliver of hope T-Mobile might future proof with LTE on board. No such luck.
The Note II will be available in Marble White or Titanium Grey, with flip-cover back plates available in Titanium Gray, Marble White, Blue, Pink, Mint, Lime Green, and Orange as seen in the image above.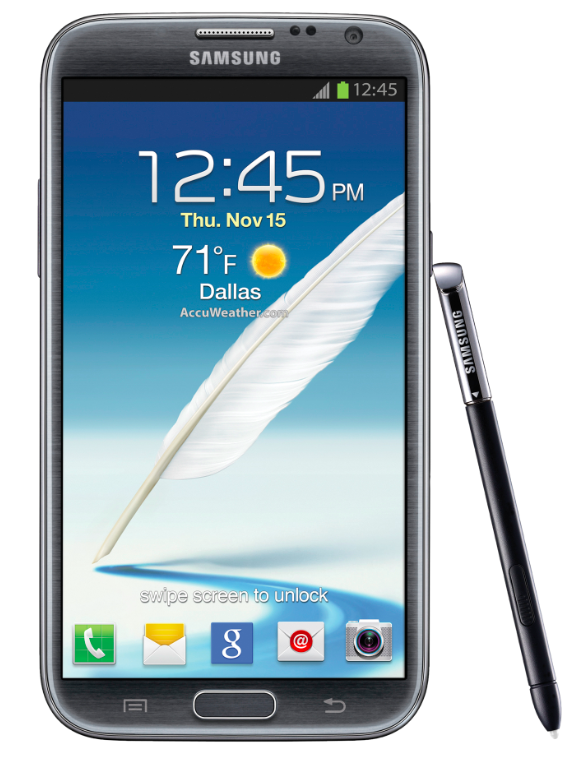 T-Mobile press release:
Hi—T-Mobile is excited to partner with Samsung to bring the highly-anticipated Samsung Galaxy Note II to our customers. As T-Mobile's first smartphone to be powered by a quad-core processor and Android 4.1 Jelly Bean, the Galaxy Note II leverages T-Mobile's 4G (HSPA+42) network for fast, incredible performance.

Featuring a stunning 5.5-inch HD Super AMOLED screen, the Galaxy Note II is the perfect all-in-one device for blending productivity, entertainment and connectivity. We will have more details to share in the coming weeks.
The full Samsung press release is below:
Samsung Mobile Introducing Galaxy Note® II in Time for the Holidayswith AT&T, Sprint, T-Mobile, Verizon Wireless and U.S. Cellular

 Redesigned S Pen and apps, sharing capabilities and quad-core Exynos™ processor enhances productivity, creativity and performance

DALLAS — September 19, 2012 — Samsung Telecommunications America, LLC (Samsung Mobile) – the No.1 mobile phone provider in the United States1 – will launch the Galaxy Note® II in the U.S. with five major carriers by mid-November. Exact pricing and retail availability will be announced by each of the carriers.

 Optimized for the fastest 4G LTE* and HSPA+ 42 networks, the Galaxy Note II combines some of the best capabilities of the Galaxy S® III with an enhanced S Pen and new S Pen apps, the processing power to multitask like a PC, with a larger screen yet in a thinner, lighter form factor. The Galaxy Note II enables consumers that want a larger format device to create, collaborate and now share original content faster and easier than before.

"The original Galaxy Note® created a new category of smartphones by combining the best of a smartphone with the best of a tablet. In less than a year, Samsung sold more than 10 million globally demonstrating the category is taking hold," said Dale Sohn, president of Samsung Telecommunications America. "The new Galaxy Note II is a significant leap forward for the category."

Power & Performance

Galaxy Note II marks the U.S. debut of Samsung's Exynos™ 1.6 GHz quad-core processor optimized for LTE networks. It has 2GB of internal RAM; and comes with 16 GB of onboard file storage and supports up to 64GB of additional memory with a microSD® card. Collectively, these deliver easy multitasking, lightning fast screen transitions, powerful browser performance and minimal app load time.

The Galaxy Note II is the first Samsung smartphone to launch with Android™ 4.1 Jelly Bean, which bringsstunning graphical capabilities and an upgraded Google Now service, including new features such as contextual search. It is also a SAFE-designated device, which means it has additional security features to safe-guard sensitive data and communications.

The Galaxy Note II has a 5.5-inch HD Super AMOLED™ touchscreen with 16:9 aspect ratio, the standard for true HD video viewing, and comes with a 3,100 mAh battery, which is 24 percent larger than the original Galaxy Note.

Despite the much larger battery, the device weighs slightly less than the original Galaxy Note. As a result of a narrower bezel on all four sides of the screen, the screen is larger but the overall device is narrower. The Galaxy Note II is available in Marble White and Titanium Gray color options.

Create & Collaborate

At the heart of the Galaxy Note II and the ability to create and collaborate is the S Pen™, which has been ergonomically redesigned to provide a more precise and natural writing and drawing experience. The new S Pen can sense 1,024 levels of pressure sensitivity, four times more than the original S Pen.

When the new S Pen is removed from the Galaxy Note II, it automatically launches the S Pen menu, whichopens a new home screen that allows one-touch access to most used S-Pen applications. Keeping track of the S Pen is simple now too because a visual and audible alarm appears if the user forgets to put the S Pen back inside the device.

The S Pen's advanced features provide the ability to capture ideas, inspiration and information instantly, andto combine handwriting with any digital content directly on the screen, such as adding new calendar appointments by writing the event details directly on the day of the week, signing or adding handwritten notes to an email.

Selecting and cropping text, images or other content on the Galaxy Note II with the S Pen is very similar to a traditional "click-mouse" experience. When the S Pen's side button is pressed down, the S Pen recognizes that users want to clip or edit the selected content on the screen. Users can draw precise lines around the content to be cropped out, highlighted or copied into another application.

Key applications of the S Pen include:

·         Easy Clip feature allows users to instantly outline and crop any content on the screen in any shape to save, share or paste. Once done cropping the image, users can freely edit the cropped content through coloring, shading, or their own personal handwriting.

Air View allows users to hover with the S Pen over an email, calendar entry, image gallery or video to preview the content without having to open it or wait for screen transitions. This feature also enables users to preview Web site content without opening the full site. Air View provides a title description for unrecognizable icons in various applications.

·         Quick Command uses the S Pen to quickly activate applications and services people use most often. The command pad appears with one upward swipe on the screen with the S Pen button pressed down. Users can send an email, make a call or search a location with pre-registered and customized S Pen stroke marks made on the command pad.

Idea Sketch allows users to easily add illustrations by handwriting keywords on the S Note. It provides illustration images that match the handwritten keywords. It's a fancy illustration match function that will allow users to express, organize and visualize ideas in a more innovative and creative way. Users can even customize and add in their own illustrations library.

·         Photo Notes allows users to create handwritten notes on the back of digital photos.

Multitask & Share

The Galaxy Note II takes multitasking to the next level by enabling consumers to launch multiple windows on one screen, including high definition video. Multitasking features include:

·         Popup Note lets users open an S Note instantly as a pop-up window to jot down a quick note during a phone call, checking email or watching a video.

·         Popup Video extends the concept of 'Popup Play.' While watching a video, with the touch of a button, the video will become a floating window on the display. The video will continue to play and it can be re-sized or repositioned to any part of the GALAXY Note II's screen. This versatility means that users are free to load other applications beneath it to browse online or work in other apps such as email, calendar or text messaging.

·         Popup Browser launches a new browser window when a user clicks on a link embedded in an email.

The Galaxy Note II contains many of the popular, real-life content sharing features introduced in June on the Samsung Galaxy S™ III including:

·         S Beam – Tap back of Galaxy Note II against another S-Beam-enabled device to share large video files, documents or S Notes in seconds without using data service.

·         Share Shot – Seamlessly share pictures taken with Galaxy Note II's 8 megapixel camera to other phones from up to 200 feet away.

·         Burst Shot/Best Shot – Capture rapid-fire still pictures with zero shutter lag; choose picture with optimal colors, lighting and clarity from Best Shot image recommendations.

·         AllShare Cast™ and GroupCast™ have been expanded on the Galaxy Note II. Share premium video content, mobile games and movies and TV shows from Samsung Media Hub wirelessly with Samsung Smart TVs, laptops, tablets and other consumer electronics.

Customize & Accessorize

·         Protective Flip Cover – Samsung's unique flip cover enhances the look of the Galaxy Note II with a premium leather front and glossy backing, while providing privacy and protection. The Protective Flip Cover comes in seven vibrant colors to customize the Galaxy Note II, including Titanium Gray, Marble White, Blue, Pink, Mint, Lime Green, and Orange.

·         S Pen with Eraser – This ergonomic, full-featured S Pen features a button for gestures and an eraser tip for easy corrections. This updated version of Samsung's original S Pen truly mimics the feel of a pen or pencil.